How Do I Receive Audio Description on a TV? (Updated Jul '22)
Terminology
The FCC originally designated audio description for television as video description, but the ACB and ADP objected to this alteration of the term for audio description, and on October 27,2020, the FCC issued a Report and Order which in part changed the terminology. The networks have historically used four different terms! Also, note that in the following discussion, the term SAP (Second Audio Program channel or feature) is used. However, SAP is exclusively an analog television feature, and now everything is digital. For convenience, most people (including us) continue to reference the term SAP, even though it is technically not correct. There does not seem to be a uniform or easy way to reference the feature in another manner.
General Considerations
Cable or Satellite Service: The signal must be selected from the audio menu on your cable box via its remote, NOT the TV's remote, generally by selecting SAP or other terminology such as MTS or Audio.
Using a Recording Device (DVR): Generally speaking, you don't have to have the secondary audio channel on during the recording of a show on a DVR or TiVo device: you can choose the option at playback time. Older devices (such as TiVo Series 3) may require that you preselect SAP before recording. Ask your cable provider for a newer device if this is a problem for you. Also, some cable boxes, such as DirecTV's Genie, reset the SAP option after showing a recording, while others leave it on.
Caution for All Methods: If you leave your set on the secondary channel, you may find NO audio at all when the secondary audio channel is not in use. Some stations or networks pass the regular audio on the secondary channel, while others do not.
Accessible User Interfaces
December 20, 2016, was the deadline for compliance with the FCC's order for manufacturers of video devices to offer accessible user interfaces to visually impaired customers. Check out the FCC Fact Sheet: Television and Set-Top Box Controls, Menus, and Program Guides. Comcast lead the way on this years ago, and eventually everyone else followed. Check below for information, or contact your own cable or satellite TV supplier for "what's available" and "how to" information regarding Talking Guides or audio for remotes. You can report findings on our forum, and you can report problems to us at [email protected].
Which TV to Buy? (Updated Nov '21)
While we, the ADP or ACB, have not researched TVs, we will be happy to relate positive user experiences with TV sets currently on the market. The recommendation needs to come from one or more visually impaired persons who find it easy to access both the accessible user interface and the SAP Feature. Some of these are smaller TVs, because the user doesn't need the visual benefits of a large screen; however, typically a TV with a certain set of features will come in multiple sizes.
[Nov '21] LG CX OLED. User wrote: "I love it and find it to be mostly accessible. I use the screen reader built into it and with watch Prime Video,Netflix, Disney Plus, Apple TV Plus, Paramount Plus, all with audio description without the use of an additional device."
[old] Element TV, 19" (though larger sizes are available), purchased at Target for around $90 and connected to an antenna (also available for less refurbished on Amazon). Element's Accessibility page.
[old] Toshiba Fire TV Edition, includes a voice remote with Alexa, for sale at Best Buy and 32"-49" on Amazon. The Insignia Fire TV Edition is nearly identical (24"-39" on Amazon).
Hisense is another TV manufacturer, and they have a web page on Hisense TV Accessibility Features and a number to call for information (888-935-8880).
Provider-Specific Information (Updated Nov '22)
The amount of detail shown for the various providers below varies based on the amount of information we could find or provided to us by users. You can help by sending the webmaster additional information!
Service or Product Provider
How to Access Audio Description or Voice Menus Using Their Devices
Provider's Info Links

Using an Antenna

There should be an audio setup menu on your TV remote. The audio description audio channel might be labeled SAP (Second Audio Program), MTS (Multichannel Television Sound), Secondary Audio, or maybe even Spanish, Español, or Portuguese. It may be active only for described shows (otherwise often silent). Newer TVs should have an audio option ("talking guide") for the remote, as those manufactured after December 2016 are required to have this feature.

n/a

Amazon Fire Products, plus Recast

Amazon has made voice menus available on its Fire products, and this typically includes apps running on Fire, such as Netflix. In addition, "Blind and low vision customers can enjoy screen reading capabilities when using Amazon Prime Video on devices such as the Microsoft Xbox One and One S, Sony PS4 game consoles, certain Roku streaming devices, as well as many smart TVs and Blu-ray players, including certain TVs and Blu-ray players from Hisense, LG, Samsung, and Sony." Note that Amazon also offers the Fire TV Recast box, a DVR for over-the-air transmissions which can be placed anywhere in the house and accessed on any TV via a Fire Stick or remotely. See our article on Cord-Cutting Options Supporting Audio Description which discusses the Recast unit and Fire Sticks in detail.

Accessibility Updates for Fire TV and Amazon Prime Video Customers

AT&T U-verse

You can call their Disability Resources number at 800-772-3140, though we have heard that you may get better results by emailing [email protected]. We have no information on availability of a Talking Guide with U-verse, though DirecTV (above) does have one.

Video Description for U-verse TV

Charter

See Spectrum below.

n/a

Comcast

From an April 2020 Facebook post by Jeff Heck: "If you have the X1 platform, Comcast/Xfinity has put all of their AD programming into one convenient area. If you have an X1 remote, you can hit the audio button and say 'described shows' ... and it takes you to all their described programs. It tells you what's currently airing that is described, movies and specials on demand, and series on demand [plus] series and movies on Netflix." If you are having problems, check the Support Center link or call their Customer Service Center for People With Disabilities at 855-270-0379 7 days a week from 8am to midnight Eastern time. You may also request that they mail you a braille or Large Print Channel Lineup for your local area or order a large button remote. Check out their Talking Guide enhancement to their XFINITY X-1 cable boxes. (See more information on how to use the Talking Guide and read a Comcast blog post.) Once activated (call the Support Center if necessary), the Talking Guide will speak channel and program information and guide you for activating audio description. You can even enter your commands via voice. Enhancements are being added over time without the need to replace the hardware. Braille or Large Print Welcome Kits for Xfinity services are available from the service center. Listen to a podcast from Sep '19: Demo of the Xfinity X1 Set Top Box with Voice Guidance.

NOTE: If you have a Comcast X1 platform unit, including the Flex box, you have free premium access to the NBCUniversal Peacock app. User feedback on ease of use has been excellent. Nov '22: Flex is being renamed Xumo Stream Box.

Comcast Accessibility Support Center



Cox

Cox offers audio description (on Standard, HD, and Contour receivers and DVRs), voice commands (via Contour voice remote), and voice guidance (talking guide). Their Accessibility page has links to each of these features. Accessibility support: 888-266-1304.

Cox Accessibility

DirecTV Stream


DirecTV is owned mostly by AT&T and markets their product now as DirecTV Stream. If you are a customer and can supply us with details, please do so. However, we have fairly new information on enabling description and accessing the Talking Guide as posted to the right. To quickly turn on AD, press the Info key on the remote and then up-arrow. Also, in July 2022 someone wrote that "using DirecTV Stream on a PC is kind of difficult. The best option is to use it with a smart TV [or via a media stick]." Need help? Call 888-388-4249. You can find more information about DirecTV Stream on our Streaming page.

NOTE! On 8/5/22 Terrell Jones offered this post: DIRECTV Stream: accessing Audio Description. He uses a Roku device with it.

Enabling Video Description (2020)

Accessing the Talking Guide (2020)

Dish

According to the Dish website, all of their receivers support audio description. Text to speech is supported on their Hopper 2, Hopper 3, and Wally receivers. See their Accessibility page and follow the links to your specific receiver for information on how to access these features. Call 866-970-1575 (updated Dec '21) for information about accessibility. You can also listen to a user-provided video on how to use the text-to-speech features.

Dish's Accessibility Features

Spectrum


Spectrum is the brand name used by Charter Communications, which in 2016 combined Bright House, Charter, Time Warner Cable, and several smaller companies. As of 2021, the current recommended cable guide from Spectrum is called Spectrum Guide, which is their go-to accessible option. It offers Guide Narration text-to-speech and other accessibility features. This guide runs on the Worldbox, which comes in several models. The 110 is the base model with no DVR, while models starting with 2 (like 210) include a DVR. On Spectrum Guide, you get to accessibility options via the Options button, which is just above the #1 key. To evaluate your current options, call Spectrum at 844-762-1301.

In February 2022, Brian F wrote that Spectrum has "done quite a turn around with their accessibility. I now only subscribe to them through their streaming cable service which you can access on the AppleTV, iPhone, and iPad. I have been quite impressed with their accessibility," and he complimented "the fantastic accessibility of the Spectrum TV iOS app with audio description." Later he wrote: "Whenever I start a show playing in the app, I immediately do a one finger double tap as this opens the player controls, and if you flick to the right the third or fourth option is SAP, and you just one finger double tap on it, and it will confirm that it is selected. Here is a demo I did of the app on my podcast That Real Blind Tech Show."

Spectrum Guide Overview

TiVo


While TiVo is a "box," not a service provider, we include it here because many people use this box to access their recorded programs. To activate or deactivate their screen reader, press and hold button A for two seconds. To activate an audio description track, press and hold button C for two seconds. Pressing C again will either switch to the next AD track or return to regular audio. If you press and hold C but get no response, try pressing CLEAR - the leftmost button on the bottom row of your remote - to clear any overlays. Then press and hold C again.

User Robert C wrote in April 2017: "I have been extremely happy with my TiVo Romeo series DVR for 3+ years by being able to access everything I needed through the TiVo app. Then, in December, they added a screen reader to the box itself and I like it even more! They also added two very useful remote control shortcut buttons. By holding the 'A' button someone can toggle the screen reader on and off and with the 'C' button you can access alternate audio when available."

But in February 2022, Brian F wrote: "I just left TiVo after 18 years. Unfortunately, while their box is accessible. TiVo has not updated their screen reader since the day they released it. It is quite lacking compared to most other services. Additionally, audio description working was hit and miss. I am not sure if this was a TiVo issue or local Spectrum issue. I would avoid getting TiVo as their customer service since being outsourced over seas has gone pretty far downhill. Getting someone who knows about accessibility at TiVo is difficult."

TiVo Accessibility

Verizon FIOS

Verizon now offers text to speech functionality for the Fios TV on-screen guide. If you are disabled and your set-top box is not compatible with text-to-speech, you can swap it out for no charge, including installation. If you rent a movie on demand and the movie has a description track, the FIOS service should transmit the description for you. For more information, contact the Verizon Center for Customers with Disabilities at 800-974-6006 Monday through Friday 8:30 am to 5:00 pm or email them at [email protected].

Accessible Products and Services
The bottom line is that there is no single standardized method for receiving description, but most systems rely on the concept of a "Second Audio Program," or SAP, even though the terminology is incorrect. We rely on user experience; so if you have been able to receive audio description, please write the webmaster (via the link at the bottom of this page) and tell us your experience, including HOW you receive your signal (i.e., which cable company and cable box), what settings you use, what TV you have, and your location.
You may wish to also note that there is a conflict between the use of the Second Audio Program (SAP) channel for description versus Spanish Language in the USA. The "plan" is to carry description on its own audio channel in the future (i.e., not a shared purpose channel), but we are a long way off from equipment standardization in this area. The FCC concedes this conflict of legacy equipment in paragraphs 28-33 of its Report and Order and gives local stations leeway on which signal to pass, until such time as multiple audio channels are readily available to end users. [As of July 2014, there is no plan in the works to utilize additional audio channels. The single-channel "SAP" concept appears to be "it" for the foreseeable future...]
Who Must Provide Audio Description? (Updated Feb '22)
The FCC's authority to govern certain aspects of audio description on commercial television rests with the CVAA, formally known as The Twenty-First Century Communications and Video Accessibility Act of 2010. You can reference either the short Consumer Guide to the CVAA or the full CVAA Public Law 111-260.
As of July 1, 2021, the list of networks required to provide AD (updated every three years) is: ABC, CBS, Fox, NBC, plus Hallmark, HGTV, History, TBS, and TLC. Hallmark and TLC are new, replacing Discovery and USA. Each network is required to provide 87.5 hours of audio-described prime time or children's programming per calendar quarter. The ACB has been in touch with the USA network, and they have agreed to continue offering audio described programming. We don't know about Discovery, which, by the way, is planning to merge with Warner Media (which owns HBO Max, TBS, and TNT, among other media). (In early 2021, after processing exemptions from news and sports networks (see Public Notice listing the top 10 non-broadcast networks), the FCC announced (see the FCC's March Announcement) the 2021 changes.

In August 2021, the FCC granted Warner Media's TBS's request to air "at least 1,000 hours of audio described programming (and more than 1,400 hours of audio described programming on average) during any quarter in which it is unable to meet the minimum hour threshold in the Commission's rules, without regard to the number of repeats. Additionally, Warner Media asserts that it will provide audio description for 100 percent of newly produced, non-live programming aired during certain core hours on TBS, TNT, and TruTV.")
Some History
On January 12, 2018, the FCC's Media Bureau released a Public Notice announcing the top ten non-broadcast networks according to the Nielsen ratings: Fox News, ESPN, USA, MSNBC, HGTV, TBS, Discovery, History, Hallmark, and TNT. The Commission would determine from this list, depending on exemption requests filed by program networks that believe they should be excluded from this list, which top five non-broadcast networks will be included under the video description requirements for the three year interval beginning July 1, 2018. In May 2018 the FCC has granted requests from ESPN, MSNBC, and Fox News to be excluded from the list of networks that must provide video description because they do not air at least 50 hours of prime time programming that is not live or near live per calendar quarter. The FCC then updated the list of the top five non-broadcast networks that will be subject to the FCC's video description requirements effective July 1, 2018, to be USA, HGTV, TBS, Discovery, and History, thus dropping Disney and TNT, both of which will hopefully continue providing at least some description. Here is the May 2018 FCC Order and Public Notice. Read the original January 2018 Public Notice. (USA received an exemption from new programming but in return offered more total described programming than any other network.) PBS and TCM have long voluntarily provided description (several other stations like The CW provide some now).
Also as of July 1, 2018, the time requirement for description increased from 50 hours per quarter to 87.5 hours per quarter (about an hour per day) and is now subject to increased restrictions on counting reruns. The NCTA (The Internet & Television Association) has petitioned the FCC for relief concerning repeat counts for cable networks.
Local Stations: Officially, as of July 1, 2015, the FCC's mandate applies to the top 60 markets. (See also the current Nielson DMA Rankings.) Outside of those markets, the requirement to pass along the description is voluntary at the present time ... but CALL your provider for help anyway! Many of them supply it regardless of the market. In fact, according to the FCC, although only ABC, CBS, Fox, and NBC affiliates located in the top 60 markets must provide audio description, any broadcast station, regardless of its market size, that is affiliated or otherwise associated with any television network, must pass through audio description when the network provides it (which is essentially always done), if the station has the technical capability necessary to do so**, and that technical capability is not being used for another purpose related to the programming (for instance, Spanish language).
November 2020: The FCC has adopted an Order expanding the number of designated market areas (DMAs) required to carry audio description from 60 to 100 over the next four years. In addition, "The Order also replaces the term 'video description' with 'audio description' throughout the Commission's rules, implementing a recommendation of the Commission's Disability Advisory Committee and harmonizing the Commission's terminology with that used by consumers and other Federal agencies." Read the FCC Press Release or the full Report and Order or article: FCC Expands Audio Descriptions for Broadcast TV.

On January 1, 2022, the audio description requirement expanded to DMAs 71-80. See the 2021 DMAs (PDF) or Detailed 2021 DMAs.
Satellite providers (Dish Network and DirecTV) must pass through SAP for the top five non-terrestrial networks as listed above regardless of a subscriber's location. However in the cases where a local affiliate of a terrestrial network (i.e., a local station affiliated with a network like ABC, picked up and fed as a convenience to subscribers in the area) is not broadcasting SAP, the satellite provider is not required to pass along the SAP from the stations' networks since the satellite provider gets the signal from local stations. If the local affiliates are broadcasting audio description, the satellite companies must pass that signal on to subscribers if they have the technical capability to do so**.
Cable Companies (like Comcast or Spectrum) must pass along description from the cable stations (like TBS), as long as they have over 50,000 subscribers. If any local affiliate (a station picked up and passed along by the cable company) is broadcasting SAP, then they must pass that signal on to subscribers if they have the technical capability to do so**.
** Reference FCC Report and Order 11-126 paragraphs 23-27, where technical capability to do so is defined as having "virtually all necessary equipment and infrastructure to do so, except for items that would be of minimal cost." These five FCC paragraphs, particularly paragraph 27, demonstrate a minimal tolerance for excuses in this area, especially over time.
Resolving Problems Receiving Audio Description (Updated Oct '22)
Lots of people report success after contacting their local affiliate or cable/satellite provider for help! PLEASE CALL THEM FIRST FOR ASSISTANCE. If they are not cooperative or unsuccessful in resolving your situation, you can tell them you will be filing a complaint with the FCC that they will have to answer; and if they still don't resolve your problem, then file the complaint. NOTE: If you do not receive an email from the FCC after submission or if you are otherwise having issues filling out the Accessibility Complaint form, please contact the FCC's Disability Rights Office at [email protected], or call 202-418-2517 (voice), 888-835-5322 (TTY) or 1-844-432-2275 (videophone).
Slightly modified, here's advice offered on our list server by Timothy Wynn in November 2021.
If you are having trouble receiving AD from a broadcast network, e.g., NBC, then you should try contacting the local affiliate first. If you are having trouble receiving AD from a non-broadcast network, e.g., USA, then likely the issue lies with your cable or satellite provider.
Consumers may search the Video Programming Distributor (VPD) database for contact information to report audio description problems and to file complaints with distributors of video programming on television. This database has two contacts per provider: (1) a contact for an immediate response when reporting concerns/issues with audio description, e.g., an engineer at the station, and (2) a contact for filing a complaint, e.g., the VP of Regulatory Affairs. Sometimes both contacts are for the same person, sometimes two different people -- it all depends on the provider and how they structure things.
To use this database:
Open the above link in a web browser of your choice. The beginning of the main content is a level-three heading labeled "SEARCH VPDs".
After reviewing the instructions below the heading, move to the unlabeled edit box and enter your zip code (the label is right before the field).
Check the types of providers that correspond to how you receive television broadcasts. These are check-boxes and so you can mix and match as desired.
After making your selection, you will find a "Search" button below the series of check-boxes. Activate it to initiate your search.
Once the page loads, there should be a level-three heading labeled "SEARCH RESULTS", a combo-box to filter results if you chose more than one provider type, and below that a table containing all the providers that were populated from your choices.
Find the provider you wish details for, and activate the "view details" link which is the last column of the table.
Once the page loads, the main content starts with a level-three heading labeled "VPD DETAILS". you can peruse the details as desired, and contact the provider with the contact method of your choice, i.e., by phone, fax, e-mail, or writing a letter (if filing a complaint).
How Much Description Are Networks Providing? (Updated Feb '22)
The Audio Description Project monitors the amount of audio described shows each TV network is providing. We will do this at least once each year. IS THIS USEFUL INFORMATION TO YOU? IF YES, PLEASE NOTIFY THE WEBMASTER AS WE DISCUSS WHETHER OR NOT TO CONTINUE THIS ANNUALLY.
Here are our results reported in AVERAGE HOURS PER WEEK, broadcast networks first, followed by non-broadcast (cable) networks. The PBS numbers come from one PBS station and may not reflect all stations. Disney (no longer mandated) no longer provides description. The numbers for non-mandated networks The CW and Telemundo are not included because they are so small. Congratulations to the USA Network for its longstanding #1 rank by a significant margin up until 2022, now overtaken by worthy competitor TBS and newcomer Hallmark! Note, however, that the FCC limits how reruns are counted, and USA Network is heavily reruns (which also affects HGTV, History, TBS, and TNT rankings). Their ranking below is misleading according to the FCC rules, as we are simply counting show occurrences. Starting July 2018, new requirements further limit reruns and increase the minimum number of hours required by 75%. Note, however, that USA Network gained an exception to the rerun rules and offered its superior number of total described offerings in exchange. (In August 2021, TBS was granted a similar exemption.)
Average Hours/Week
Jan '22
Jan '21
Jan '20
Spring 2019
Spring 2018
Spring 2017
Spring 2016
Network
Type
Reqd
Hours
Rank
Hours
Rank
Hours
Rank
Hours
Rank
Hours
Rank
Hours
Rank
Hours
Rank
ABC
B
Yes
19.6
10
21.6
9
13.3
10
11.8
9
8.0
8
8.3
8
8.8
6
CBS
B
Yes
11.1
14
13.8
11
10.8
12
9.5
12
9.9
7
8.4
7
8.1
8
FOX
B
Yes
15.0
13
12.3
13
10.3
13
11.4
10
13.0
5
14.9
5
11.5
5
NBC
B
Yes
15.1
12
13.1
12
11.8
11
11.0
11
11.0
6
8.5
6
8.5
7
PBS
B
No
59.6
6
50.1
5
50.0
5
54.9
6
Discovery
NB
Yes
38.0
8
nd
nd
nd
Disney
NB
No
na
na
na
na
4.9
9
5.3
9
4.9
9
Hallmark
NB
Yes
115.8
2
Hallmark M&M
NB
No
36.0
9
HGTV
NB
Yes
60.5
5
49.1
6
23.9
7
19.9
8
History
NB
Yes
93.1
4
75.5
4
60.3
4
61.5
5
37.8
4
29.9
4
18
4
Oxygen
NB
No
0
15
23.3
8
22.3
8
SyFy
NB
No
27.5
9
34
7
37.8
6
22.9
7
TBS
NB
Yes
123.6
1
111.3
2
121.4
2
129.5
2
57.3
3
49.1
2
41.6
3
TCM
NB
No
15.6
11
15.6
10
16.5
9
74.8
3
TNT
NB
Yes
49.9
7
90.6
3
78.9
3
71.8
4
80.7
2
44.5
3
65.8
2
USA
NB
Yes
108.9
3
129.5
1
131.9
1
138.1
1
122.6
1
99
1
117
1
KEY: Type (B=Broadcast; NB=Non-broadcast); Reqd (Currently Yes=mandated by FCC); na (not applicable anymore); nd (no data available)
NOTE: Prior to July 2018 the requirement was 3.8 hours/week, which increased to 6.7 hours/week with limited rerun counting by July 2018 (not reflected above due to the way we count).
Accessible Billing Statements From Cable Providers (This info is old and may be outdated...)
We have been asked to include the following information here. If you have additions or updates, please send them to the webmaster using the link at the bottom of the page.
Spectrum/Charter: call 877-728-3121
Comcast: call 855-270-0379
Verizon: call 800.974.6006
Links of Interest (Last Updated Aug '22)
CAUTION: Over time, links in this section [like those to COAT, now defunct] will cease to work!
FCC Votes to Reinstate Video Description
On August 25, 2011, the FCC was finally able to vote (unanimously) to reinstate video description, effective July 1, 2012. ABC, CBS, Fox, NBC, USA, the Disney Channel, Nickelodeon, TNT, and TBS are each required to provide 50 hours of video-described prime time or children's programming per calendar quarter. Read Commissioner Clyburn's statement.
NOTE: The FCC's order applies (at this time) to the Top 25 TV Markets. [deleted expired link] The markets near the cutoff are: St Louis (21), Portland OR (22), Charlotte (23), Pittsburgh (24), and Raleigh-Durham-Fayetteville (25). Just over the line are Baltimore (26), Indianapolis (27, formerly 25), San Diego (28), and Nashville (29). Indianapolis was the only area in the top 40 to move more than 1 position in the last year. In six years, the top 60 markets must be covered, adding 10 more markets per year after that.
FCC Adopts Two Key Provisions
In early March, 2011, the FCC adopted two key provisions of the newly enacted 21st Century Communications & Video Accessibility Act without the need for further public discussion:
Reinstatement of the video description rules previously adopted by the FCC in 2000.
Rules requiring providers of advanced communications services and manufacturers of equipment used for those services to make their products accessible to people with disabilities.
Further details are available at COAT. At the same time, FCC Commissioner Michael Copps has praised CBS, FOX, PBS, TCM, and TNT for having voluntarily continued producing some shows with description even after the FCC's mandate was overturned in 2002. [Applicable link expired]
Video Description Legislation Becomes Law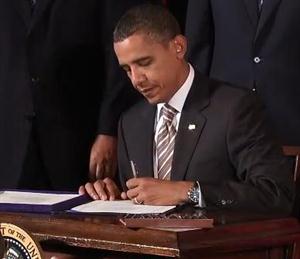 On October 8, 2010, President Obama signed The 21st Century Communications and Video Accessibility Act. Earlier, the House passed HR 3101 (Twenty-first Century Communications and Video Accessibility Act of 2009) and the Senate passed a modified S 3304 (Equal Access to 21st Century Communications Act), which was closer to HR 3101 than their original version, then voted on some technical amendments (S 3828). The House then voted on the modified Senate bill on September 28, 2010,which was subsequently signed by President Obama. Passage of those bills required a lot of lobbying by members of COAT and others, so congratulations to all who helped! [NOTE: COAT was an organization formed to help ensure passage of this bill. Having achieved its objective, it was eventually disbanded in 2015.]
The new law assures restoration of the FCC's authority to mandate video description, at least for the largest networks in the largest population areas (although not for one year, October 2011). Now actually being able to receive description on your TV is a different story, but this is the start that we've been waiting EIGHT long years for!
Key Links
Law Firm's Summary of the Act and Its Implications [no longer available]
View the Video of the Signing [no longer available]
See bottom of this page for additional references
Summary (focusing on items affecting people who are blind or have low vision)
Video Description
After 1 year, restores FCC rules requiring 4 hours per week of video description on 9 television channels (top 4 broadcast networks and top 5 cable channels) in the top 25 most populated markets.

[See UPDATE above]

After 2 years, requires FCC to report to Congress on video description.
After 4 years, permits the FCC to increase video description to 7 hours per week on 9 television channels.
After 6 years, requires the FCC to apply the video description requirements to the top 60 most populated markets (not just the top 25 most populated markets).
After 9 years, requires the FCC to report to Congress on the need for additional markets to carry video description.
After 10 years, permits the FCC to expand video description to 10 new markets annually to achieve 100 percent nationwide coverage.
Equipment
Requires cable/satellite set-top box on-screen text menus and guides to be audibly accessible to individuals who are blind or have low vision, if achievable.
To provide access to built-in closed captioning and video description features through a mechanism that is reasonably comparable to a button, key, or icon designated for activating the closed captioning or accessibility features.
Requires devices designed to receive or play back video programming:

to make controls of built-in functions accessible to and usable by individuals who are blind or have low vision, if achievable;
to make controls of built-in functions accessible to and usable by individuals who are blind or have low vision through audio output;
to provide access to built-in closed captioning and video description features through a mechanism that is reasonably comparable to a button, key, or icon designated for activating the closed captioning or accessibility features.
Emergency Information
Requires video programming owners, providers, and distributors to make emergency information accessible to individuals who are blind or have low vision.
Watch this website for updates. The ACB and its representative Eric Bridges have contributed valuable input on the content of these bills which finally made it to congressional votes.
History
There is a long history on the subject of audio description for television, which is typically called video description. The short version is that the FCC mandated it to start in April 2002, but their authority to do so was challenged successfully that same year, and for the next eight years measures got introduced in Congress to reinstate that authority, failing to get passed (probably because of tacked-on unrelated provisions) until the second half of 2010.
The only good news during those years was that some networks continued to produce audio description tracks for some of their shows (many shows for PBS, a few for CBS, for example). With the conversion to digital television, the problem of receiving the description increased immeasurably.
Originally description was offered by a feature of analog televisions called Second Audio Program, or SAP. By activating SAP via your remote, you could receive a secondary audio channel, replacing the primary one. The audio channel could be a Spanish language translation of the audio, or it could be a version of the primary audio that had been modified with description overlaid.
With the transition to digital TV in June of 2009, reception issues got significantly worse. While an audio channel was designated for audio description on digital TVs years ago, without the mandate for description the TV manufacturers did little or nothing to allow access to the channel, and very few TV networks have offered a digital audio description feed.
And then there is the question of the cable and satellite networks. They need to take a network feed and rebroadcast it, then make it available through their own set-top boxes. Historically this has required costly additional equipment, and implementation has been spotty.
So, to put it bluntly, we are in limbo regarding actually being able to receive description on TV! Congress has finally given the FCC the authority to mandate it from broadcasters and (we believe) will require manufacturers to make the description channel easy to access on all new TVs at some point in the future, but we're not there yet.
The key committee working on these problems is the FCC Video Programming Accessibility Advisory Committee, co-chaired by Larry Goldberg of WGBH Media Access, and a key workgroup is the Video Description Pass-Thru Workgroup, co-chaired by Brad Hodges of the AFB.
In the meantime, you can check some of the following topics for reference. [Links are being removed over time as they become inactive ...]
Turner Classic Movies (TCM) cable network has a number you can call to hear a recording of their DVS movie schedule: 404 885-5535.
Conversion to Digital Television (DTV) and Second Audio Program (SAP)
(includes Accessing Video Description on Your TV)
COAT writes HULU requesting complete captioning and expanded video description. Read the HULU letter. (HULU is an online service for recent TV shows.)

- posted May 7, '09

FCC Announces Establishment of Technical Working Group to Study Digital Closed Captioning and Video Description Issues, Appointment of Members, Agenda for First Meeting. Read the FCC Announcement (PDF).

- posted May 1, '09

TV Network Addresses (offsite link; so you can contact networks regarding description!) Dec '21
For audio described television outside the USA, see our International page.