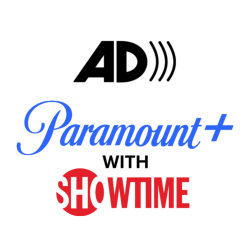 The following programs are AUDIO DESCRIBED IN ENGLISH on Paramount+ in the USA. Jump to Titles.
LAST TITLE UPDATE: Jan 21, 2022; count = 241 titles. The

date is the date added here, which may be later than Paramount+ added it. In 2021, Paramount+ added a net of about 25 titles per month. Additions to this list are posted on Twitter and Facebook. If you have problems with any of the audio described titles on Paramount+, please contact Paramount+ Customer Service.
Paramount+ supports most web browsers and streaming devices. Audio Description is activated via the Subtitles + Audio menu in the upper right of the screen. If it just says Subtitles, then the video does not have AD. On iOS devices, you touch the screen, and the menu is upper right, working the same way. Sometimes the device remembers your setting, sometimes not. Please send us any updates for this paragraph!
Note: Entries with the "CBS TV Series" designation are generally available FREE to watch with AD on the separate CBS App or CBS web page; however, the duration of content availability may vary depending on whether or not you have a TV provider sign in. Note also that as of December 1, the following CBS series listed here are not available on CBS TV: Bull, FBI International, Ghosts, Magnum P.I., Seal Team, Survivor, S.W.A.T., Tough as Nails, United States of Al. We try to note when description begins for a Series or if there are missing episodes, but this is hard to track over time. Please send us updates! Paramount+ is the successor to the CBS All Access app.