Jump to titles.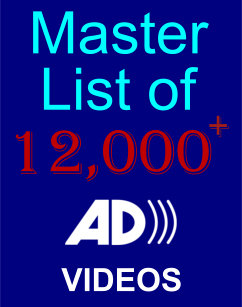 Jump to Titles. The following Current Cinema, DVD, TV, and Streaming titles are AUDIO DESCRIBED IN ENGLISH in the USA via one or more of the following sources as noted in this listing. For details on accessing each provider's programs, click the links below. This listing is generally updated each Tuesday and Friday (see just the latest ones). In 2021, we added about 160 titles per month.
Check if a video is described here

Enter the title or partial name of a video
LAST TITLE UPDATE: Jun 24, 2022; count = 7768 titles; 15 titles from Cinema updated 6/17, 1512 DVDs updated 6/21, 126 Apple TV+ 6/24, 941 Disney+ 6/21, 97 Google Play 6/24, 635 HBO Max 6/21, 250 Hulu 6/21, 1802 iTunes 6/21, 1946 Netflix 6/24, 3424* Prime Video 6/24, 317 Paramount+ 6/24, 168 Peacock 6/24, 9 Vudu 6/18, 13 Other Videos 3/15, 560 Spectrum Access 5/30, and 374 TV Series 5/30. (* = Prime Video number is unique titles, not total variations.)
NOTE: If a provider lists a video followed by words like Remastered, Rereleased, Theatrical, Unrated, With Bonus Content, or a year, those words may be dropped to match another listing title exactly; however, some DVDs of the same title are listed separately to help you identify reissues or special editions. If two movies from different studios share the same name on one service, there will only be one entry here, but two on the service. For TV Series, some may be reruns on E!, Oxygen, SyFy, TBS, TNT, or USA. Please report any duplicate title listings you find below, as we work hard to standardize names!