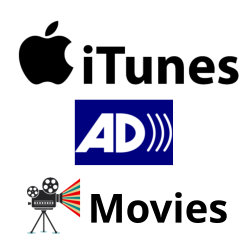 Jump to Titles. The following movies are AUDIO DESCRIBED IN ENGLISH on Apple's iTunes for rent or purchase IN THE USA. Jump to titles. iTunes is a TVOD, or Transactional Video On Demand service offering digital rentals and purchases of movies. You need to download and launch iTunes separately to access the movies. If you are outside the USA (including Canada), your list of movies with description will be different. However, iTunes offers some titles of foreign language description in the USA; see our Non-English AD listing. This alphabetized listing is offered by the Audio Description Project based on data provided to us directly from Apple weekly. If "PREORDER" is noted, the video may or may not be available yet when you view this listing, and it may only be available for purchase, not rental, temporarily. Note: Apple TV+ is unrelated to iTunes, and its titles, all of which are audio described, are not included here.
LAST TITLE UPDATE: Sep 19, 2023; count = 2068 titles. Additions to this list are posted on Twitter,  Facebook, and Instagram. The

notation means the date we added the movie title here, which may be a bit later than iTunes did. In 2023, Apple has added a net of about 20 titles per month.
You can view the official list of audio described titles on iTunes (on Windows PCs and older Macs) via a link on the iTunes Store Movies page (iTunes PC/Mac menu image). For iPads, look for "Movies With Audio Descriptions" at the bottom of the Movies page. For most (but not all) browsers, www.itunes.com/audiodescription will open iTunes. Additional instructions for accessing the listing on various devices are located on Apple's Find audio-described content in the iTunes Store page. On iTunes, movies with description will have an

icon under the cover image. The links in the listing below will take you to Apple's online description of each movie, including trailers, cast, pricing, and a link to launch iTunes. If you have feedback on accessibility issues with Apple products like iTunes, contact [email protected].
CAUTION: Extended and/or Unrated versions are not typically described (unless spelled out below), nor are packagings of two or more movies together! If a year follows a movie, it means that year's new version of the movie is described, or at least it matches exactly how iTunes chooses to list it.