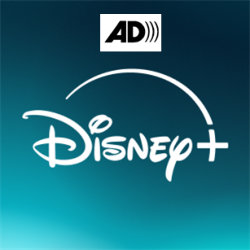 The following programs are AUDIO DESCRIBED IN ENGLISH on Disney+ in the USA. Jump to Titles. See our separate Foreign Language AD listing for Disney+ titles in the USA with Foreign Language Description. The underlying title data was supplied to us by Disney. The studio name Disney+ in a video's description means it is a Original made for Disney+. Titles with studios of Disney include releases by Pixar, Marvel, Buena Vista, and RKO Radio Pictures. Titles on the Disney+ service which contain an AD track are denoted with the

icon. Note: Sometimes short videos filed under "Extras" are also described, though not listed separately here; and Disney+ describes many of the trailers.
LAST TITLE UPDATE: Jun 6, 2023; count = 1120 titles. The

date is the date added here during the last month, which may be later than Disney+ added it. Disney has been adding a net of about 20 titles per month. Additions to this list are posted on Twitter,  Facebook, and Instagram. If you have problems with any of the audio described titles on Disney+, please call 888-905-7888 or chat at help.disneyplus.com.
Almost every streaming device supports Disney+. (See Disney's official list of supported devices.) However, streaming Disney+ Basic (With Ads) is not currently available on the Microsoft Windows Desktop app. To activate description the first time, you swipe down (or tap the screen, or click on a desktop browser) while a title is playing, tap the Tool icon

in the upper right, then select English-AD under Audio on the left side. The selection of AD should remain for other titles and cross devices. Good reference (from mid-2020): the AppleVis podcast on Put your Mickey Ears on for Disney+ for iOS.