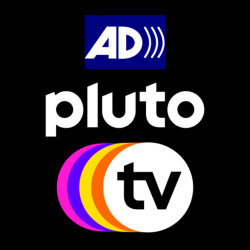 The following titles are AUDIO DESCRIBED IN ENGLISH on Pluto TV in the USA. Jump to Titles. Pluto TV is a FREE ad-supported streaming service owned by Paramount Global, offering movies, series, and live TV. Some of the movies and series are audio described.
LAST TITLE UPDATE: Sep 15, 2023; count = 26 titles. If you have problems with any of the audio described titles from Pluto TV, please ) contact Pluto TV Customer Service. They do not have a phone number for customer service.
Pluto TV began offering audio described content in August 2023.
You may review their own list of Pluto TV audio described titles, which is currently where we get our list of titles.
On the web, note that you may experience a 20-second delay before a title starts, and it may start with sound muted. Tab to the Mute button and press enter (or space bar). Tab again to volume, then tab to Audio and Subtitles. Press Enter and tab to "English [Audio Description]." Select it, then tab to the X to exit the dialog box and double-tap to exit control options.
On an iPhone or iPad, once a title is running, double-tap the screen to access controls, then swipe left or right to access options. You may find the Audio/Subtitles menu labeled "Disable Closed Caption." Select it to choose "English [Audio Description]" and exit the menu. Double-tap to leave the controls screen.
On an Apple TV, not tested yet.
On an Android Device, you tell us what to write here please!
You should find that your choice of audio description "sticks".
We are unable to supply year, genre, or rating for the movies listed on this page, as they are not available on the Pluto TV online listing.
PLEASE NOTE: This is a start-up operation, and not all features are working, nor do all the titles appear to be available at this time.