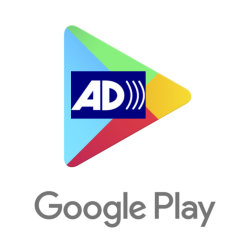 The following titles are AUDIO DESCRIBED IN ENGLISH in the Google Play Store in the USA. Jump to Titles. Google Play is a TVOD, or Transactional Video On Demand service offering digital rentals and purchases of films.
LAST TITLE UPDATE: Dec 8, 2023; count = 97 titles. If you have problems with any of the audio described titles from the Google Play Store, please contact Google Play at 855-836-3987.
NOTE: We are unable to supply year, genre, or rating for the movies listed on this page, as they are not available on the Google Play Store's online listing. Also, we only list movies on this page, because the series sold by Google do not indicate audio description in the online listings. Most importantly, this list is incomplete, as movies drop off the Google Play Store list yet appear to be still available with AD, even though not listed on their page of approximately 100 titles. (They come back on the list just as frequently, which is why we don't track Recent Additions here.) You can find out if a movie carries an AD track by typing the name in their Search field to pull up the movie's information page, scrolling to the bottom, and looking for Audio Language. A title with AD typically looks like this: English [5.1, AD].
NOTICE: There are rumors that the Google Play Store is shutting down soon, in which case this listing will be removed.