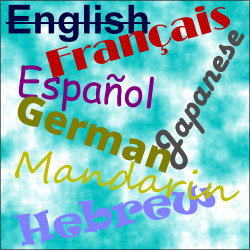 This is a Master List of titles available on USA Streaming Services with audio description tracks in languages other than English. This is the ONLY such list in the world! Keep in mind that our list applies only to viewers in the USA and does not imply availability in other countries. The USA Streaming Services that offer titles listed here are: Disney+, Netflix, and Prime Video, plus a limited number from Hulu, iTunes, and Max. But note that Apple TV+ offers audio description in at least nine languages (English, French, Canadian French, German, Italian, Japanese, Portuguese, Russian, Spanish, and Spanish Latin America, plus the original language of the video if not one of those listed) for almost all of their over 150 titles, and those titles are not listed here. See the separate Apple TV+ title listing.
LAST TITLE UPDATE: Jun 9, 2023; 2747 titles; 56 description languages. Disney+: 290 titles. Hulu: 7 titles. iTunes: 13 titles. Max: 2 titles. Netflix: 2312 titles. PrimeVideo: 123 titles.
This list is updated Tuesdays from information supplied directly to us by the streaming services. Just like we have a Master AD List of titles described in English, this is our "Master List of Titles Described in Languages Other Than English"! We hope you find it useful.
Show Me: