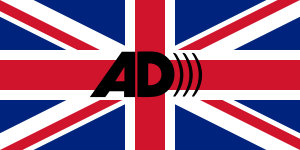 It's a fact that the UK is way ahead of the USA in supplying audio description tracks for DVDs and Blu-ray discs. For example, Warner Bros has been doing it in the UK for years, but they just started in the USA mid-2015. Here is how to order some of those videos in the USA.
As you probably know, the underlying encoding of video discs in the UK is different from the USA (known as Region 1 in the USA and Canada, and Region 2 in most of Europe). It is also possible to record a disc as Region 0 (zero), commonly known as Region Free. When this is done, the disc (DVD or Blu-ray) can be played on any nation's players. Look up any popular DVD on Amazon USA, and you will see "Region 1" under Product Details. On Amazon UK, you will likely see Region 2 for the same movie. However, for Blu-ray discs, you will often, but not always, see "Region Free."
(See Wikipedia for a definition of Region Codes.)
The point of all this is that you may be able to purchase Blu-ray discs produced in the UK with description, when you can't purchase a USA-produced disc for the same movie. And sometimes you can even find those UK-produced discs on the Amazon USA website. Your approach should be to find a disc with description on the Amazon UK website (where they are kind enough to often tell you the video has description in the specifications, unlike Amazon USA). Note the price (in British pounds, worth about $1.32 US in January 2020), and see what they charge to ship to the USA (but you'll have to open an account first to do that). Then copy the ASIN number from the product description, go to the Amazon USA website, and type or paste that same ASIN number into the search field. If you find a match on the USA Amazon site, then you are looking at the same described disc. You will note that in most cases it is sold directly by an importer (Amazon marketplace merchant), rather than "fulfilled by Amazon." Compare prices, if you wish, and order accordingly.
Caution: Only order that same ASIN number, not some other variation offered on the USA site, unless you specifically note audio description mentioned!
For example, Harry Potter – The Complete 8-Film Collection has description on at least 5 but maybe all 8 of the 8 discs in the UK. Typing that ASIN (B00543RC0Y) in the USA Amazon site yields the same package (and in this case the Amazon USA site actually states that it has audio description). [However, please note that a newer, cheaper, USA version now exists! See our Harry Potter DVD entry.]
There is a link you can use to find all the audio described titles on Amazon UK, but it's quite long, so we've shortened it for you: bit.ly/amazonukad. You would be best off narrowing your search to Blu-ray discs via the link on that page, because a Region Free DVD is rare, while it is common for Blu-ray discs. Of course if you have a player which will play Region 2 discs, it doesn't matter. To see a list of all titles ever produced with description in the UK, visit www.yourlocalcinema.com/ad.dvd.html.
Our policy on listing UK-produced discs with audio description on this site will be that if you can buy it from Amazon USA as "fulfilled by Amazon" (as opposed to dealing directly with a marketplace seller), we will list it. We do this to protect you in case you receive a disc without description, for example, as Amazon will always refund such a situation, and we can't speak for individual sellers. We are starting off with two of them: Harry Potter (link updated January 2017), and The Hobbit Trilogy. You are of course free to order other discs you find directly from the Amazon Marketplace sellers (such as MovieMars). To the extent that users notify us of other discs fulfilled by Amazon, we will add them to our listing.
(Use the Webmaster link at the bottom of each page on this website to tell us what you find.)