The 2010 Audio Description Project Conference
July 12-14, 2010 in Phoenix, AZ
Now that the Conference is over, we are sharing much of the information presented and discussed in Phoenix. The Conference was attended by people with a large variety of interests and experiences with audio description. We had both on-site attendees (the majority) and online ("virtual") attendees for a total of nearly 50 participants!
The ADP Conference was followed by the ADP Institute, a training session for audio describers, on July 15-17.
Here is the Conference Agenda, annotated with comments and presentations. LAST UPDATED: August 10th, 2010 with more photos and the presentations from Japan. You can also visit last year's conference page.
---
AGENDA
2010 Second Annual Audio Description Project (ADP) Conference
An Initiative of the American Council of the Blind (ACB)

"DESCRIBERS TELL IT LIKE IT IS!"
Phoenix Downtown Sheraton Hotel - July 12-14, 2010 - Phoenix, AZ
Note: -Mornings are kept open for attendance at ACB Convention plenary sessions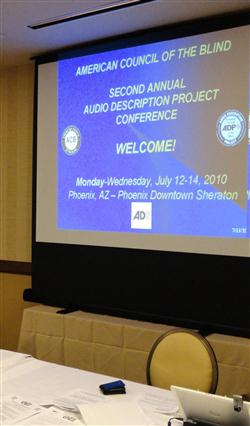 Day I - Monday, July 12, 2010

1:00 pm-1:30 pm Welcome/Introduction to the ADP
Mitch Pomerantz, President, American Council of the Blind
Kim Charlson, 1st Vice President, American Council of the Blind;
Chair, Audio Description Project Committee, ACB
Joel Snyder, Director, ADP
+ Audio recording of the Welcome
COMMENTS from Mitch and Kim
AD is something we must continually advocate for
We are optimistic about passage of the latest Senate and House bills
There is a misconception on the behalf of many sighted people that blind people don't watch TV, go to the theatre, etc -- we know this is not true
AD is important. The ACB has fought for it for a number of years, and we will continue to advocate for more description.
We are thrilled to see the international presence at the ADP Conference. We want to learn more about AD from the international perspective, because many of you have been doing it longer. We are trying to get the mandate here.
1:30 pm-2:30 pm Audio Description - What Works?
ADP Webmaster and long-time describer Fred Brack will moderate a panel discussion with two description users and two describers on "what works" in the development of description in various formats/genres (performing arts, museums, media, etc.)

+ Fred's Presentation (PowerPoint Show)

DISCUSSION POINTS
Describers tend to under describe -- we need more information
Don't just tell me an actress is blonde; tell me more about what she looks like
The vast majority of people are adventitiously blind, so cater to them if you have to make a decision
The amount of description is based first on the amount of TIME available for it [between the lines], then choose WHAT to describe
Give as much information as possible (but then again, someone said less is more ...)
We need research on what congenitally blind people want from description, not just local user feedback (Good reference book: Hailstones and Halibut Bones, which discusses color from the blind person's perspective)
Re interpretation vs description: it's OK, it's how people talk normally (Joel disagreed and urged caution here)
Be concise -- choose the right word; ultimately it's a question of time and what you can fit
Re race: mentioning race can vary by country (e.g., you would never do this in South Africa); but in general, TELL US, because we want to know everything; withholding info about race denies us what the rest of the audience can see
Re describing sex scenes: tell us what you see; men are very visual!

2:30 pm-3:30 pm Legislative Update - mandate for broadcast description; broadcast description in the digital era and the FCC; Department of Education funding; news regarding 508 updates and U.S. Access Board activities
Eric Bridges, Director of Advocacy and Governmental Affairs, ACB;
Timothy P. Creagan, Senior Accessibility Specialist, U.S. Access Board;
Karen Peltz Strauss, long-time access advocate, Deputy Chief, Consumer and Governmental Affairs Bureau, Federal Communications Commission
+ Audio recording of the Legislative Update
COMMENTS
Coverage of bills is very extensive: video programming, user interfaces, cable boxes, DVRs, conveying emergency information, for example
A primary objective: reinstate the FCC's authority to mandate video description
One possibility: requiring the cable industry to provide upon request an accessible cable box with text to speech
The bills in congress vary. If the House version passes as-is, we get up to 7 hours of described programming, but ONLY in the top 25 markets. In the Senate version, the FCC's authority to mandate any amount in any market is retained.
The wireless and equipment industry representatives have been very cruel in their critique, way overstating negative implications for their industries
There has been minimal progress on mandating HOW the description signal will be transmitted and received; in other words, a mandate to do it may be in place with no mechanism to transmit or receive
There are no provisions for Hispanic description
Voicing of emergency notifications remains a complicated area, not fully addressed
The term "Video Description" was the original term used by the FCC, and so everyone else is copying it
3:30 pm-4:00 pm break

4:00 pm-4:45 pm The Harkins Movie Theater Chain Discrimination Case
Special guests-Arizona Assistant Attorneys General Rose Daly-Rooney and Cathleen Dooley -- Attorneys General Daly-Rooney's and Dooley's work on behalf of access to the arts was a critical factor in the recent victory regarding captions and description for presentations at an Arizona chain of movie theaters.
+ Audio recording of the Harkins Case
COMMENTS:
Harkins has 262 screens in AZ; they refused to offer accessibility to their movies and were sued in December 2006 by the State Civil Rights Division after two user complaints (a deaf 15-year old and a blind patron)
The suit broke new ground, but they crafted it carefully to try to avoid pitfalls that others had encountered (e.g., asking for too much, too broadly)
The suit asked for a "sufficient number" of installations, not all of them; training for employees; a method of soliciting data from patrons to see what needs the had
They went to court in January 2008, and the case was dismissed in March 2008
The Court of Appeals reversed the ruling, sending it back for further deliberation. Since the Appeals court covered half a dozen states, their ruling may apply elsewhere. They ruled primarily that the law DOES require use of auxiliary aids and services.
The final case is still pending, but Harkins has begun to show SOME open captioned films in SOME theaters, but no AD

4:45 pm-5:30 pm Certification for Arts Describers: The Future-and the Past (Learning From Our Sign Interpretation Colleagues) -
Julie Gebron of Portland, OR (a certified* sign interpreter and seasoned audio describer!) and Victor Brown of Phoenix, AX (certified* sign interpreter) will review the well- established procedures of the Registry of Interpreters for the Deaf for the inclusion of sign interpreters in this nationally-respected certification process. Julie is the author the landmark publication Sign The Speech: An Introduction to Theatrical Interpreting.
* Registry of Interpreters for the Deaf and National Association of the Deaf
+ Audio recording of the Certification Discussion
COMMENTS:
This was largely a discussion of the history of ASL Interpreter certifications and their implication
A "certification" demonstrates a "minimal" standard in the profession -- nothing specialized (like theater interpretation)
Learn from our mistakes by reading our published articles

5:30 pm-6:30 pm People with Disabilities in the Production of Description - PART TWO
Last year's attendees enjoyed "Part One" of this session, a live audio presentation by Rick Boggs, President, Audio Eyes and The Accessible Planet; Former Director of Described Media, VITAC. This year, Rick joins us along with top audio editor, Phoenix-based Chris Snyder (totally blind) to demonstrate important description techniques and illustrate the ways in which description production benefits by collaboration with description users
COMMENTS:
Given the difficulty of a person with a visual impairment being hired, it was a great opportunity to be able to get this job, especially since he couldn't even get training elsewhere
Audio Eyes is the only company that uses blind people in the quality control process [this point was informally disputed later when we learned that other companies use a blind member as part of team reviewing description]
In his job, he gets to do lots of things: audio engineer, voice overs, quality control
Re quality: everything gets reviewed at least twice for the best choice of words and how the description fits

Dinner on your own

8:00 pm Screening of "It's Complicated" with description provided by WGBH!

Day II - Tuesday, July 13, 2010

1:30 pm-3:50 pm Audio Description Around the World - Chaired by Bernd Benecke
+ Audio recording of Description Around the World part 1
+ Audio recording of Description Around the World part 2 (starting near end of Australia presentation)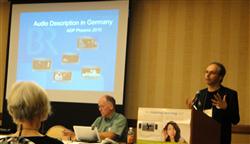 1:30-1:35 pm Introductions - Bernd Benecke of Bayerischer Rundfunk in Munich

1:35-1:55 pm Audio Description in Germany
Bernd Benecke, long-time description trainer and producer of description for Bayerischer Rundfunk in Munich will demonstrate his work and share his informed perspective.
COMMENTS:
There are 20 channels of public TV in Germany, 12 of which offer description in stereo
He has been with BR since 1989 working full time on description, training authors, reviewing scripts, directing the mixing activity, running workshops, setting guidelines
Clips of blind people talking about the value of description to them were shown
The first movie was described on TV in 1993; in 1997 his company began self-financing 1 described movie per month
Now, there are 800 described movies and series on TV per year; approximately 30% of the programming is material produced by BR
About 100 DVDs have been released with description, one third of which were described by BR (examples were shown)
Description is done by a team of three people sitting around a table; one of the three is blind

1:55-2:10 pm Audio Description in Spain and Throughout Academia
Dr. Pilar Orero, worldwide leader in "audiovisual translation" academic programs and the Director of the AV Translation Program at the Universitat Autonoma de Barcelona, will review how audio description is taught on the graduate level and how AD users access description in Spain.
COMMENTS:
A few national TV shows (e.g., Friday Films) now have description
Some training is available at universities for describers
They are doing research on eye tracking of viewers: do we all follow the same images, or, for example, are men different from women in this regard? In general they have found that people follow what film directors want them to follow, but there are some difference between the sexes.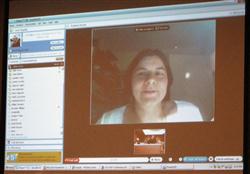 2:10-2:25 pm Audio Description in the U.K.
Dr. Sabine Braun leads the audiovisual translation and audio description studies at the University of Surrey in the U.K. Sabine will outline the widespread availability of description in a wide range of formats throughout the U.K. We'll get some hints on how other nations can "catch up" with the level of AD available in the U.K and the state of audio description in academia.
COMMENTS:
Started the Auditel project in the early 1990s
Provided AD guidelines for the UK
Description is widely available on digital TV in the UK
The BBC iPlayer (a catch-up or DVS-like service) now has an AD track
Legislation requires 10% of programming to be described
Over 500 described DVDs are available
Unlike the USA, Amazon in the UK lists when a movie has a description track
Lots of cinemas have headsets for AD, and many museums have touch tours
A Masters and PhD program for audio description is now available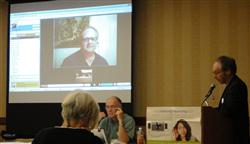 2:25-2:40 pm Audio Description in Sweden
Peter Lilliecrona will report from Sweden. Peter is a leader of the audio description interest group "Audio Description NOW". He will present the unique Swedish perspective on audio description.
COMMENT: The big problem in Sweden is getting money to pay for description

2:40-3:00 pm Special Report from Japan
Dr. Chieko Asakawa and Dr. Hironobu Takagi, IBM, Tokyo, present ground-breaking research by IBM on speech synthesis and its potential application to description. They will also share information on current description activity in Japan.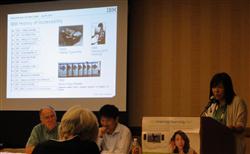 COMMENTS:
In 2008, 0.9% of movies had description, and 0.4% made it to TV
Japan is a leader in penetration of digital TVs and Smart Phones; the barrier to description is cost
One approach to help on costs may be the use of synthetic speech, and that is what the IBM Tokyo lab has been working on
Several demonstrations of the progress in synthetic speech were so good we didn't know they were synthetic!
However, it is felt that synthetic speech is best used in educational videos; humans are still best for drama, etc.

DEMONSTRATIONS:
3:00-3:15 pm Audio Description in Argentina
Pablo Perez of Antarctica Films in Buenos Aires will tell us about description activity in Argentina and his own interest in incorporating description within Antarctica Films' productions.
COMMENTS:
The earliest effort was description of the movie "Anita" about a girl with Down's Syndrome, and the feedback was great
In December 2009 a law was passed requiring description on TV to start in 2010
They are working with the Federation of Blind People, training describers, etc
They have no live description services for the arts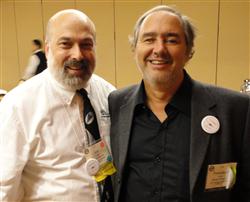 3:15-3:30 pm Audio Description in Brazil
Dr. Francisco Lima, Associate Professor at the Universidade Federal de Pernambuco in Recife, Brazil. Dr. Lima supervises students studying audio description and will report on his students' research and audio description work throughout Brazil.
COMMENTS:
They have a 45 hour training course for new audio describers, after which they give a free presentation to the community on the subject of audio description
They also teach AD at the Master's level
Local law required 2 hours per day of described TV, but it is not enforced and it is headed to 2 hours per week

3:30 pm-3:50 pm Audio Description in Australia
AD is alive and thriving down under! John Simpson of Vision Australia will provide an overview.
COMMENTS:
They are the ACB's counterpart for Australia
They looked at AD across the company and advised how best to speed the delivery of information and availability
They provide AD across a range of production types and work with Media Access Australia
They also work with video software distributors to assure that AD tracks get on DVDs, since they have had a problem with description tracks from the UK making it over to Australia. New DVDs are 30% described.
One TV station is beginning a trial of AD on TV, and they are working on getting the emergency message stripes announced

3:50 pm-4:15 pm break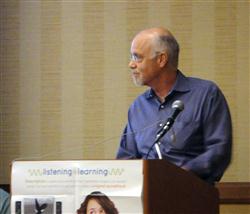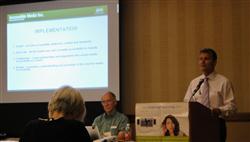 4:15 pm-5:00 pm Description for Media-Film and DVD (and AD in Canada!)
Entertainment lawyer Dana Walker (formerly Vice President, Business Development and now consultant to DVD distributor Shout Factory; founder of New Media Resources and describedmedia.com) and David Errington, CEO of Canada's Accessible Media, Inc. and "The Accessible Channel", will brief us on their efforts and offer the latest news on description on DVDs and downloads, and share the latest in description throughout Canada.

+ David's Accessible Media Presentation (PowerPoint Show)
COMMENTS:
Accessible Media Inc is a not-for-profit organization
They operate Voice Print Canada and TAC-TV (The Accessible Channel - everything is described and captioned), which must be carried by all cable providers and paid for by them
51% of all programming in Canada must originate in Canada, so they can't simply pick up USA material
When they describe something, they give the description script and track back to the studio for free, retaining no rights
In January 2011, TAC-TV will expand to offer its content streamed live over the Internet, available to everyone
Dana works with studios convincing them to produce AD tracks for all their DVDs for the Home Video market
The cost of producing AD can be less than the cost of producing an alternate language track (e.g., Mandarin) in some cases

5:00pm-5:45 pm Wikiscribe It!
Will Grignon, lawyer, professor, writer, speaker, and entrepreneur, is founder and president of Wikiscribe It! (www.wikiscribeit.com), an online repository of detailed descriptions of images in accessible text format-- and its affiliated charitable organization Descriptions For The Blind Inc. (www.descriptionsfortheblind.org). Sighted until the age of 31, Will completed his MFA from UCLA and his JD from Pepperdine University.

+ Visit WikiScribeIt.com
+ Visit http://www.DescriptionsForTheBlind.org

Dinner on your own

8:00 pm Screening of described educational video and discussion
Described and Captioned Media Program (DCMP) and Update on Listening Is Learning - a joint initiative of the Described and Captioned Media Program (DCMP) and the Audio Description Project -
Bill Stark, Director and Wanda Shipman, librarian specialist for children who are blind or have low vision

+ Audio recording of DCMP Presentation
+ Visit Described and Captioned Media Program

Day III - Wednesday, July 14, 2010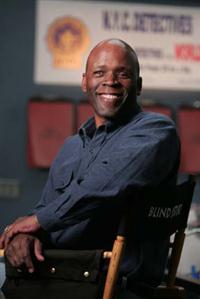 1:30 pm-3:00 pm Luncheon with guest speaker - Lynn Manning
+ Audio recording of Lynn Manning

Audio description enthusiast Lynn Manning is an award winning poet, playwright, actor, Paralympic Silver-medalist, and former World Champion of blind judo. Based in Los Angeles, he's co-founder and President of Watts Village Theater Company; president of FireHouse Theater Company; a member of The Actors' Studio Playwright/Directors Unit West, and associate artist with Cornerstone Theatre Company. The Center Theatre Group's world premiere production of Lynn's autobiographical, one man stage play, Weights (One Blind Man's Journey), received three NAACP Theater awards in 2001, including Best actor for Lynn. He has since performed Weights (One Blind Man's Journey) from London to Off Broadway, from Croatia to Toronto, and from Edinburgh to The Adelaide Fringe. Lynn's award winning play, Shoot, is included in the ground breaking collection, Beyond Victims and Villians (Contemporary Plays by Disabled Playwrights). His poetry is featured in the 2006 anthology, Voices From Leimert Park. .An audio CD of Weights (One Blind Man's Journey) was released by Bridge Multimedia in 2005.

+ Visit www.LynnManning.com
COMMENTS:
Lynn is first a performer/actor/poet, only secondarily a user of description as an adventitiously blind man
He told us of his earliest experiences with audio description, and how much they meant to him
He recited his most popular poem, The Magic Wand, which begins, "Quick-change artist extraordinaire, // I whip out my folded cane // and change from black man to blind man // with a flick of my wrist."
As a child, he loved movies. After he lost his vision, he occasionally went with a friend, but his friend's whispered description annoyed other patrons.
Later, friend attached a microphone and earpiece to an ordinary cassette recorder and was able to whisper into the mike to provide description without either man having to turn their heads at the theater, and this worked pretty well.
One day he heard description of Apocalypse Now and subsequently amazed friends by his description of scenes while they watched!
His first experience with professional description was Titanic, at the one theater in LA which had a MoPix unit. Now there are lots of them.
Later he experience his first live theatre description with Macbeth, which included a preshow touch tour.
Later he was hired by a theatre, but he constantly praised the other theatre where he had seen Macbeth, and thus lit the first of many fires to add description in their theatre.
His own theatre is now the Watts Village Theater Company.

3:00 pm-3:30 pm break

3:30 pm-4:30 pm ACB/ADP Awards
Presented by Chris Gray, Immediate Past President, ACB; Chair, ADP Awards Committee

- "Young Described Film Critic of the Year" Awards Presentations
+ WINNERS:
Junior Category, ages 11-14:
Michael A. Taylor, NY, reviewed "Field of Dreams" - 1st Place

Nick Zehner, IL, reviewed "Notorious" - 2nd Place

Leo Sandoval, IL, reviewed "Goodfellas" - 3rd Place
Senior Catgeory, ages15-18:
Analis Dannen, SD, reviewed "Spiderman" - 1st Place

Deanna Whitehouse, FL, reviewed "Nova: The Mummy Who Would Be King-The Saga of Pharaoh Ramses" - 2nd Place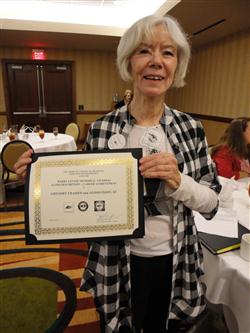 - Achievement in Audio Description - Media
+ WINNER: WGBH and the Media Access Group, Boston, MA

- Achievement in Audio Description - Performing Arts
+ WINNER: Paper Mill Playhouse, Milburn, NJ

- Achievement in Audio Description - Museums
+ WINNER: Smithsonian Institution and Beth Ziebarth, Washington, DC

- Achievement in Audio Description - International
+ WINNER: Bernd Benecke and Bayerischer Rundfunk, Munich, Germany (press release, in German)

- Dr. Margaret Pfanstiehl Memorial Achievement Award in Audio Description - Research and Development
+ WINNER: American Foundation for the Blind, New York, NY

- Barry Levine Memorial Award for Career Achievement in Audio Description
+ WINNER: Gregory Frazier and Audio Vision, San Francisco, CA (awarded posthumously to Gregory Frazier and accepted by Margaret Hardy, pictured right)

4:30 pm-5:15 pm Arizona-Description Abounds!
Eileen Bagnall of ARTAbility Arizona and VSAarts of Arizona will detail how Arizona describers provide access to the visual image at performances, events and exhibitions throughout the state. During the ACB Convention and Conference, VSAarts of Arizona will provide an audio described tour for ACB members of Phoenix's Heard Museum and a performance of Joseph and the Amazing Technicolor Dreamcoat at the Broadway Palm Dinner Theater.
+ Audio recording of Arizona Description Abounds
COMMENTS:
Eileen coordinates training, equipment, volunteers, and staff; talks with the community, and gains commitments to description statewide, primarily for schools and school age children
They have museums with description of the entire collection, and they have written scripts for docents to use with blind visitors
They have done a lot of work with tactile tours, including making models of delicate artifacts like pottery, so blind visitors to museums can feel what others see
She urges others to START SOMEWHERE! Signage, Large Print Programs, etc., but START!

5:15 pm-5:45 pm ADP Website
ADP Webmaster and long-time describer Fred Brack will update attendees on the ADP Website features (adp.acb.org) developed over the past year.
+ Audio recording of ADP Website, followed by Guidelines-Best Practices Discussion
COMMENTS:
The old AD International website was renamed The Audio Description Project and moved to a new domain (under the acb.org server) because of our new affiliation with and support by the ACB
The site's appearance and layout was redesigned during the transition, including special options for accessibility
All the media formats for description (Performing Arts, Movies, etc.) have their own pages reached by a common navigation tab, and locations (by state) for described performances or museums, for example, are listed on those pages
The highest activity section is described DVDs, which is hard to keep up with due to new promises by studios regarding description not always being met
We keep in touch with people three ways: Through the website (which now has a place to type your email address to be notified when the main page changes); Facebook; and the ADP List, which can review or subscribe to via the Contacts page on the website
The Audio Description Project logo has been described per request of a site visitor. A hidden link exists for Screen Reader Users to access the description, along with a Skip Navigation link. The description can also be accessed via the Accessibility page.

5:45 pm-6:30 pm ACB/ADP Guidelines-Best Practices - review/discussion
6:30 pm Adjourn
---
Photos from Phoenix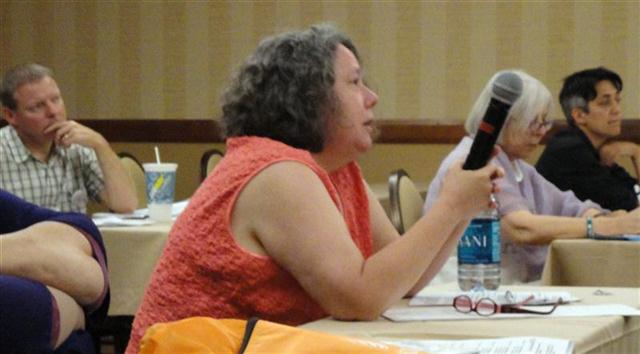 Attendees such as Celia Hughes were given the opportunity to question each speaker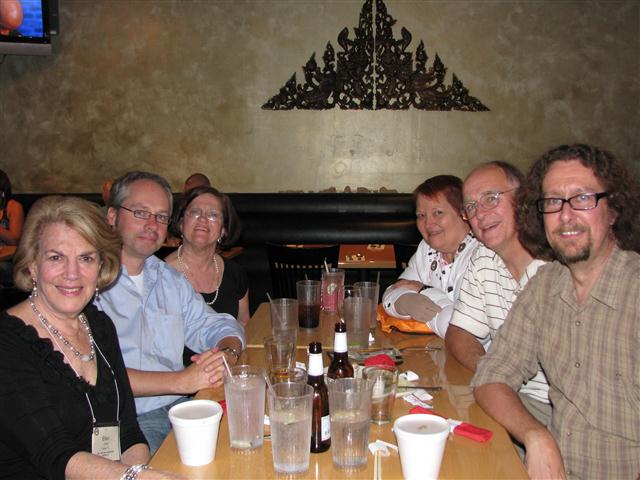 Some of the attendees at Dinner at Elephant Thai after the final day of the Conference
Left front-to-back: Ellen LaVan (Ft Lauderdale), Bernd Benecke (Germany), Wanda Palmer Shipman (DCMP)
Right front-to-back: Victor Brown (Interpreter, Phoenix), Fred Brack (ADP Webmaster), Mary Lou Fisher (Kennedy Center)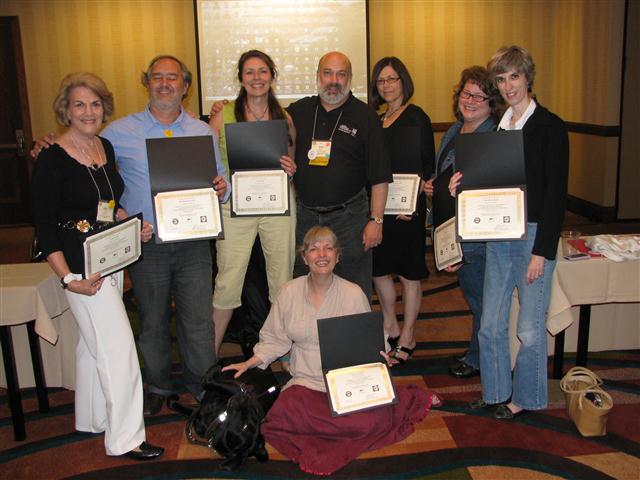 Graduates from the 2010 ADP Describer Training in Phoenix
Ellen LaVan (Fort Lauderdale), Francisco Lima (Brazil), Linda Bard (Portland),Joel Snyder (Instructor), Jo Lynn Bailey-Page (Falls Church, VA), Lee Brown (Mesa Arts Center, Phoenix), Melody Basham (graduate student Phoenix), on floor Cindy Boyle (Actors Shakespeare Co, Jersey City) and Opra (Francisco's dog)

T