July 2009 Audio Description Project Conference
Selected elements of the July 2009 Audio Description Project (ADP) Conference, which took place during the annual ACB Conference in Orlando, Florida, are presented here.

See also: ADP Conference Photo Page

Day I - Monday, July 6, 2009
1:00 pm-1:30 pm Welcome / Introduction to the ADP
- Mitch Pomerantz, President, American Council of the Blind
- Kim Charlson, 1st Vice President, American Council of the Blind;
Chair, Audio Description Project Committee, ACB
- Joel Snyder, Director, ADP (pictured right)

1:30 pm-2:15 pm Listening Is Learning - a joint initiative of the Described and Captioned Media Program (DCMP) and the Audio Description Project
- Bill Stark, Director, DCMP
- Thom Lohman, Communications Services Specialist, DCMP
See the listeningISlearning website.
"listening IS learning" is a new campaign intended to raise awareness about the benefits of described media. It is a joint initiative of the ADB and DCMP.

2:15 pm-3:00 pm ADP "AD International" Web Site (www.adinternational.org) and the ADP Affiliates Network
- Fred Brack, ADP / ADI webmaster

3:00 pm-3:45 pm Special Guest via speaker phone
- Kareem Dale, Special Advisor to the President for Disability Policy

3:45 pm-4:15 pm Break

4:15 pm-5:15 pm AD Guidelines/Best Practices
- Kim Charlson, Thom Lohman

5:15 pm-6:15 pm AD Certification
- Kim Charlson, Bill Stark

6:15 pm-6:30 pm Wrap-up of Day One / Discussion of Plans for Day Two

Day II - Tuesday, July 7, 2009
1:00 pm-2:15 pm Working Groups
- discussion of AD Guidelines/Best Practices including subsets in various genres: media, performing arts, visual art/exhibitions
In this session, conference participants, including those online in the chat room, reviewed different sections of the proposed new audio description guidelines. Some comments were general (like overall organization), while others were detailed (recommending changes in specific wording, for example). All the comments are being fed back to the working group for consideration, who at some point will issue another update to the guidelines, which will be published on this website. The initial guidelines are already published on this site, and you will find them and other AD organization's guidelines on our Audio Description page.
One significant change was made even before the review began: The title of the document was changed to reflect that these are GUIDELINES, not Standards. Also, the issue of Certification is a future objective which was not discussed. How guidelines / standards / certification all interact and come together will be decided in the future. It does not appear at this point that audio description is something for which one can have defined "standards" to be measured exactly for purposes of certification.

2:15 pm-3:30 pm Regroup and Report to Full Assembly / Discussion

3:30 pm-4:00 pm Break

4:00 pm-4:15 pm Video Greeting from Michael Copps, Former Acting Chairman, FCC
Mr. Copps gave a very encouraging talk about how quickly the FCC acted recently to put a technical committee in place with all the right people to look at accessibility in all media under their jurisdiction. Five subgroups are looking at various areas including video description and the difficulty in locating described shows or even turning on the video description soundtrack. Mr Copps is optimistic about what the group can accomplish.
Listen to Mr Copps Presentation (MP3, 5 mins)
4:15 pm-4:30 pm Legislative Update - mandate for broadcast description; broadcast description in the digital era and the FCC; Department of Education funding
- Eric Bridges, Director of Advocacy and Governmental Affairs, ACB

Eric is a member of the FCC's technical committee, representing the ACB. He made encouraging remarks about the cooperation of large communications businesses such as AT&T and Verizon and said that the current group of people on the committee is the right group of people.

4:30 pm-5:15 pm Special Audio Presentation -- People with Disabilities in the Production of Description
- Rick Boggs, President, Audio Eyes; Former Director of Described Media, VITAC

5:15 pm-6:00 pm AD Around The World
- Joel Snyder and international guests

6:00 pm-8:00 pm Dinner on your own

8:00 pm Screening of Arts & Entertainment Network documentary Barack Obama, described by ACB's Audio Description Project
Barack Obama tells the story of President Obama, from his childhood in Honolulu to the 2008 U.S. Presidential Election. It follows Obama through his teenage struggles for self-identity, his student days at Columbia University and Harvard Law School, and through his political career in Chicago, where he rose to fame through a focus on ethics and political reform. The video highlights Obama's Democratic primary campaign and his journey toward becoming the 44th President of the United States.

Day III - Wednesday, July 8, 2009
12:30 pm-2:00 pm Luncheon with Speaker, Barry Cronin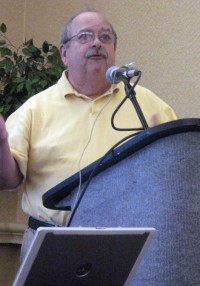 Barry told us about the early days of described video. He gathered volunteers at Perkins School for the Blind in Watertown, MA, in 1994, to see the first described show in the PBS Mystery! series. Response was good; but for the second week's showing, there was a huge snow storm, dashing any hope that these folks who were blind would be able to make their way to the showing via public or private transportation. But come they did, and thus was proven the success of described video. Then, of course, the funding issues began. Issues inhibiting wider solution were similar to those experienced when captioning was first introduced, but eventually description began to receive widespread interest, funding, legislation, and acceptance.
Fast forward to today: Again, the captioning experience is helpful. It was shown that captioning benefited more than people who were deaf; for example, people for whom English was a second language. We need a coalition of would-be users of description to help make the case for its regular production; that is, we need some non-blind users to come forward to validate the value of description; for example, it should once again help folks learning English as a second language as well as people with certain learning disabilities.
Technically, we are able to produce description for digital television, but there are no standards for receiving the description soundtrack on any of today's TVs. [There is a defined "channel" for video description, but there is no standard or requirement for making that channel available to end users.]
Barry Cronin, Ph.D., creator of the Descriptive Video Service, WGBH-TV, 1994; previous positions include Director of Instructional Television for the National Technical Institute for the Deaf; Director of East Coast Operations for the National Captioning Institute; Executive Producer, Family Education Network; recipient of an Emmy Award for the development of Descriptive Video Service, the Pioneer's Award from the Accessible Media Industry Coalition, Reynold's Society Achievement Award for development of closed captioning and audio description, and The Francis Joseph Campbell Citation from the American Library Association for service to the blind; currently serves as a consultant for Bridge Multimedia Corporation.
2:00 pm-3:00 pm ACB/ADP Awards, presented by Chris Gray
- "Young Described Film Critic of the Year" Awards
WINNERS:

Senior Category (ages 15 to 18):

First Place - Jessica Laurie, Georges Mills, N.H. (Kearsarge Regional High
School) for her review of "Father of the Bride"

Second Place - Grecia Ramirez, Smyrna, Ga. (Center for the Visually
Impaired) for her review of "The Sound of Music"

Third Place - Alexis Griffin, Covington, Ga. (Center for the Visually
Impaired) for her review of "The Sound of Music"

Junior Category (ages 11 to 14):

First Place - Shanae Bethea, Atlanta, Ga. (Center for the Visually Impaired)
for her review of "The Sound of Music"

Sophomore Category (ages 6 to 10):

First Place - Cricket Bidleman, San Diego, Calif. (Sunset View Elementary
School) for her review of "101 Dalmatians"

Second Place - Ashley Robinson, Ellenwood, Ga. (Center for the Visually
Impaired) for her review of "The Sound of Music"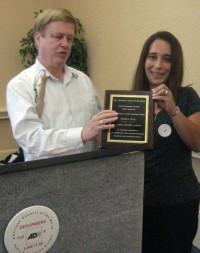 - Achievement in Audio Description - Media
WINNER: Maria Diaz and Closed Caption Latina, Longwood, FL
(pictured right with presenter Chris Gray)
- Achievement in Audio Description - Performing Arts
WINNER: Lisa Helen Hoffman and Geva Theatre, Rochester, New York
- Achievement in Audio Description - Museums
WINNER: Elisabeth Axel and Art Education for the Blind, New York, NY
- Achievement in Audio Description - International Organizational Contributor
WINNER: Joan Greening and the Royal National Institute of Blind People, London, England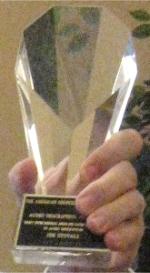 - Barry Levine Memorial Award for Career Achievement in Audio Description
WINNER: Jim Stovall, Narrative Television Network, Tulsa, OK

The Barry Levine Memorial Award for Career Achievement in Audio Description recognizes an individual for outstanding contributions to the field of audio description over an extended period of time, leading, inspiring or providing significant service to others.
3:00 pm-3:30 pm break

3:30 pm-4:30 pm Open Sharing / Discussion

4:30 pm Adjourn
ALSO distributed at the conference: Marketing Audio Description to Visually Impaired Audiences (by the RNIB)

NOTE: The 3-day conference was followed by a 3-day workshop, the ACB Audio Description Institute, lead by Joel Snyder.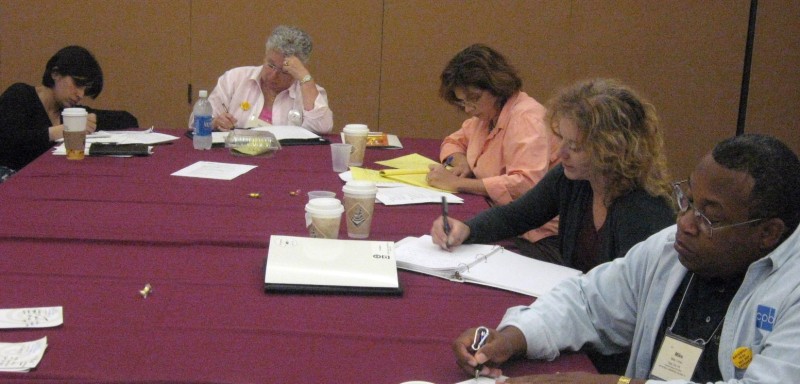 The Institute attendees work on a script for a film excerpt