Introduction
The increasingly high cost of cable and satellite TV services from companies such as DirecTV, Dish, Spectrum, Verizon and others has been driving people to look for ways to "cut the cord" (at the rate of nearly 5 million per year) to save money for several years now. ("Cut the cord" means no longer paying for the "cord" that feeds you your signal from a cable company or a satellite company's dish.) Frustratingly, the providers are raising prices and eliminating discounts, not lowering them in the face of a declining customer base; so the cost issue gets worse and worse. In addition, CordCuttersNews predicts that "Over the next 5 to 10 years, look for a third to a half of all current cable TV networks to shut down, starting with a few in 2021." As more and more companies offer streaming services, users are trying to decide which combination of streaming and over-the-air services work best for them. See Cord Cutting Hits Epic Levels (Goodbye Cable, Hello Streaming) from March '22. As of May '22, streaming occupies 32% of viewing time.
Adding to the selection confusion is that fact that if you are reading this article, you are likely looking for a solution that supports audio description well, and choices there are still lacking. In addition, if you select a service which primarily offers nonbroadcast networks like USA Network or ESPN, then you need to figure out how you are going to get the broadcast networks like CBS also. Some services offer integration packages, while others don't, leaving you to flip between an antenna for broadcast networks and apps for nonbroadcast networks. And if you depend on a DVR, how is that supported, particularly in light of audio description?!
Sigh, it's difficult, with no screamingly obvious solution. Cord Cutters News is a good resource, but they do not focus on audio description needs (see this August 2021 article, Best live TV streaming service for cord-cutters, which recommeneds YouTube TV, which does support AD, but currently isn't supported by Roku). If you disregard somewhat the need for audio description, then the Suppose website seems to be an excellent website for selecting a service. And here is an article (updated periodically) with a nice chart comparing channels available on a variety of streaming services: YouTube TV vs. AT&T TV vs. Hulu vs. Sling TV vs. Philo vs. Fubo vs. T-Mobile TVision: 100 channels compared. And from Jun '21, here's a good general article on cord-cutting: Cut the cord in 2021: Your guide to nixing cable TV.
On this page you will find one person's experience tackling the problem with audio description support a key requirement. In the future, we hope to add other users' experiences with different solutions (as we have already added a review of the Channels App and HDHomeRun Tuner). Send your reviews to the Webmaster.
Last Updated July 10, 2022.
One Person's Cord-Cutting Experience
(by Fred Brack, ADP Webmaster)

When in the fall of 2019 my satellite TV bill rose to $107 per month for basic service*, with no premium channels, I decided to investigate cord-cutting. This is my story ...
First, I established my requirements. You should establish yours.
Local stations and audio description are required.
I must have a DVR.

The DVR has to support audio description well (my wife is blind).
The DVR has to retain recordings and the description tracks for over one month.
The DVR has to be able to record at least two programs at once.

Multiple TVs have to be supported.
The user interface has to be good (both the remote control and onscreen).
Voice support ("Alexa" in my case) is highly desirable.
The cost will preferably be $50/month or less.
In my case, accessing the recordings remotely is not a strong requirement, but it might be for others. 4K is also not important to me at this time as I have no 4K TV. In examining the shows I was currently recording, I determined that while having access to nonbroadcast stations like CNN, USA Network, or The Weather Channel would be nice, it was not a requirement. Your situation might be different. I have historically only recorded one nonbroadcast network show per season, and it was low priority.
So I narrowed my options down to several offerings as follows. Each one supports local stations, though sometimes for an extra fee. You can learn more about each of them on our Steaming AD page and via your own research (including Cord Cutters News). Clicking the offering titles below will take you to the provider's page.
I liked the choices in their "Blue" package, and the price (now $35/month + $5/month for a DVR) is reasonable; plus they have a device called AirTV which integrates local channels ($120 list, often available for half that price). They do not support audio description (verified March 2022). I must say, however, that if the AD problem is resolved, it looks worthy of consideration. Note, however, that if you are rural and can't use their AirTV, according to Consumer Reports, "Sling TV doesn't have CBS anywhere in the country." Sling TV Review. How to Cut the Cord With Sling TV.
YouTube TV does support description, but the cost is $65/month. Lots of blind users have chosen this option. Unfortunately, video on demand (i.e., programs they save but not what you specifically save to a DVR) do not have AD. I nixed it based on their poor DVR support for AD at the time of my decision (probably better now). See this CordCutters' article on YouTube TV and the comments at the bottom of our Streaming AD page. Youtube TV Review. My Conclusion: YouTube TV is a highly-rated option that you should consider, if you can live with the DVR constraint. See also: YouTube TV & Philo Could Be the Perfect Replacement to Cable TV; our Guide to Accessing YouTube TV's Audio Description; and: Cutting the Cable Cord with YouTube TV (AFB, April '21).

Jul '22: I just canceled cable — here's how much I saved and my new replacement (which is YouTube TV).
AT&T TV (now DirecTV Stream)
This was then a brand new streaming service from AT&T, not the same as AT&T Now. I was hoping it would be available in my area to see how well it supports AD, but the beta test area had not expanded and AT&T put expansion off until 2020; however, the pricing [now starting at $70/month as of January 2021] and the direction of pricing from AT&T appears unacceptably high. I nixed it, based on price. (We think AD is supported, but we don't know for sure...)
I did not investigate this (now) $65-$71/month offering because Hulu does not support audio description on the Live TV side and is not likely to do so in the near future (still true as of July 2022). Limited DVR support is included; better support costs $10/month more; eliminating commercials on the streaming library costs another $6/month. Hulu Live TV Review.
I spent most of my time researching this device and ultimately selected it. The rest of this article discusses my experience. See also another user's Recast Review. Disclaimer: This solution will not work for users in a rural area with the antennas of "local" TV stations of interest over 100 miles away, since you need to pickup their signals with antennas. Amazon actually advertises inexpensive amplified antennas supporting up to 130 miles, but read the reviews! I think you should be quite safe at 50 miles, but you may want to try an antenna first before purchasing a Fire Recast unit.
I did NOT investigate this option, but another member of the ADP Media Committee has, and here is her review of the Channels App and HDHomeRun Tuner. It has the capability to combine local and cable/satellite service along with a DVR, though an external device, an HDHomeRun box, may be required; and there is fee for the DVR. My Conclusion: This is a good option to consider.
Amazon Fire Recast TV Over-The-Air DVR
First, I must say that Amazon's line of "Fire" products can be a bit confusing. They've got Fire Tablets, Fire TV Editions, Fire Stick, Fire Stick 4K, Fire TV Cube, and the Fire TV Recast DVR! The Fire TV Cube is essentially a mash-up of a Fire Stick 4K with advanced audio and an IR blaster which can control multiple components, and the Fire TV Editions essentially have a Fire Stick built-in. But let's turn to the Recast device first, then discuss the Fire Stick. Amazon now an additional option for OTA (Over The Air) support for Fire TV Cubes (only, and without a DVR). Read this July 2020 article: Amazon Adds a New OTA Feature to Fire TV Cube.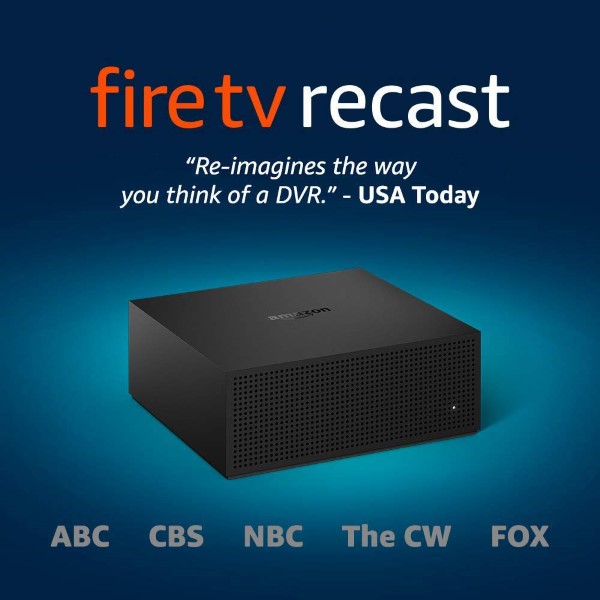 (You may see Amazon's description of the device by clicking the image above)
The Fire TV Recast is exactly what the rest of its full name says: it is an over-the-air DVR. It does NOT support nonbroadcast networks (like USA Network); however, you can add Apps (most free, a few fee) which DO offer some nonbroadcast networks. It requires an external antenna (inexpensive) and feeds local TV signals to your TV(s) and its own built-in DVR. What is interesting, though, is that it does not attach to your TV. It is a standalone box that can be placed anywhere in your home that is convenient (so long as a Wi-Fi signal is available); so, for example, you can place it on the highest story in your home near a window facing the proper direction for best TV antenna reception. Note: This product will not work for rural users who are too far away from TV station antennas to pick up signals of interest. Generally speaking, you should probably be OK with antennas 75 miles away and an amplified antenna.
So how does the signal get to your TV? Typically with a Fire Stick or Fire TV Cube, or because your TV has "Fire" capability built-in (e.g., Fire TV Editions). Each TV that needs access must have its own Fire device. That device, which connects to your TV via an HDMI port, communicates with the Recast unit via your home Wi-Fi network. You may watch TV on two devices simultaneously. You may also connect to your Recast device with an Echo Show or remotely (e.g., with an iPhone).
Turning now to the DVR, there are two models and capacities of Recast. Each unit is about 7" square by 3" high. (There has been no hardware update since originally offered in November 2018, though periodically the software is updated.)
2 tuners, 500 GB, 75 hours of recordings ($230 list price)
4 tuners, 1 TB, 150 hours of recordings ($280 list price)
With only a $50 difference, you may want to spring for the larger unit, as I did, "just to be safe" on the number of recordings AND to be able to record on rare occasions 3 or 4 shows at once. (The larger unit still limits you to watching on two devices simultaneously.)
So speaking of price, here's the pricing justification: There are no monthly fees or add-on options (an online Program Guide is included, plus a free mobile App), so what you pay up front (for the Recast and an antenna, if you need one, and Fire Sticks) is "one-and-done." So taking a typical scenario, if you pay full price for the Recast (I didn't), and you need an antenna (I didn't) which typically costs $25 to $35, and you need two Fire Sticks ($40 list, often on sale for $25), then your maximum outlay might be $280 + $35 + $40 + $40 = $395 (plus tax). How does that compare with your monthly cable or satellite TV fee? In my case, it paid off in just over two months (my personal initial outlay was $245 plus tax, as I already had an antenna and one Fire Stick, plus everything was on sale). Note: Amazon offers "bundles" with reduced pricing if you purchase a Recast unit with a Fire Stick and/or an HD Antenna.
But now, you ask, how did it all work out? On Amazon, with over 10,000 ratings as of January 2021, the overall rating is 4.1 out of 5.0, with 55% at 5-star and 20% 4-star. My own experience follows.
NOTE: It is impossible to discuss the Recast DVR without discussing the Fire Stick, because you control access to the DVR with the Fire Stick; so I will spend a fair amount of time covering the Fire Stick.
Installation and Setup
First, it took about an hour to set everything up. "Everything" in my case was one new Fire Stick (initially) and the Recast DVR. The Fire Stick plugs into your TV's HDMI port (your computer may have more than one of them). The hour included unpacking, connecting cables to devices and wall outlets, downloading the Fire TV App, connecting devices to my home Wi-Fi, letting the devices update their own software and initialize, and running through setup on the Fire TV App. One of the software initialization steps took 10 minutes. After that it was just a matter of using the Fire Stick to access the Recast unit for live TV or any recordings, or to setup recordings via the Channel Guide.
As I am sighted, I didn't test installation with VoiceView (Amazon's screen reader). However, Amazon has kindly provided a page explaining how to use it during installation; so if you need this feature, please consult About VoiceView for Amazon Fire TV. You may also wish to consult Amazon's Accessibility Page for these devices. Magnification is also an option.
The Fire Stick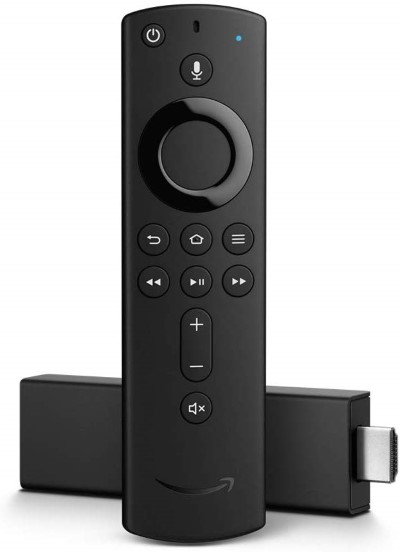 For the record, the Fire Stick or equivalent product (not the Recast DVR) offers access to paid and free streaming services via Apps (like Apple TV, CBS All Access, Pluto TV, and IMDb TV); so once you install one, you can access everything via the Fire Stick: live TV, DVR programs, and all the Apps. This includes services like YouTube, Pandora, all your photos, and an Internet Browser; and with built-in Alexa, you can also use the remote to control lights and appliances in your home, get the weather forecast, and answer questions. These are all part of what makes the Recast DVR and its Fire Stick controller a good solution. The Fire Stick comes in a "regular" version and a 4K one, which is required to support 4K devices in native mode. You may use a 4K stick with a non-4K TV, and you will even get an advantage in speed, because it is a newer device (plus you'll be prepared for if and when you upgrade to a 4K TV). [Strong Recommendation: I found that my one 4K stick worked much faster and better on my non-4K TVs, so I switched to them for the other TVs. I recommend that you purchase only 4K Fire Sticks, despite the slightly higher cost, and I do not recommend the Fire Stick Lite, which has no TV controls.

Sep '21: See the Amazon 4K Fire Stick Max.]
The Amazon Fire Stick consists of two parts: The "stick," which plugs into the HDMI port on your TV, and the remote, which you will use to control both the TV and the Recast DVR. The stick and remote are paired at the factory, so you don't need to do anything to get the remote linked to the stick, but you do need to do something to get the stick to control your TV. It all happens during setup. You switch your TV to HDMI input and leave it there, then control your TV with the Fire Stick remote. Note: Because the remote and Fire Stick are paired, do not mix them up if you have more than one! I put little numbered stickers on mine - both the remote and the Fire Stick itself.
Please note that first generation Fire Sticks did not have an on/off button, volume control, or mute button for the TV. If you have one, as I did, you may want to upgrade to second gen [but I recommend 4K]. You can turn your TV on and off with the remote and control the volume. In fact, if you, like me, use a receiver or sound bar for TV sound (as opposed to the TV's speakers), the Fire Stick is smart enough to control that volume AND power the receiver or sound bar on and off at the same time as the TV! AND you can adjust the settings to even switch to your HDMI input, even if the TV was left on another input (like Antenna or a different HDMI, for example).
So to quickly review the use of the remote ...
The button at the top left is Power On/Off.
The button just below at the center is Voice Control for Alexa.
Below that is a big raised ring, about an inch in diameter (so much easier than the Apple TV remote!). The edges of the ring can be pressed for up, down, left (back), or right (forward). The center of the ring is a large button called Select.
Next are two rows of small buttons.

The top row consists of Back, Home, and Menu.
The second row consists of Rewind, Play/Pause, and Fast Forward.


Below these two rows of buttons is a rocker switch in the center: Volume Up and Down.
Finally, just below the rocker switch is a Mute button.
The Voice Button - Alexa
In general, the voice button on the top center of the Fire Stick worked well. You press it, wait for a beep from the TV (during which time the regular volume is lowered and a blue stripe appears at the top of the TV), and say what you want. You are speaking to Alexa (but you don't have to say "Alexa" first). While this feature is intended for TV control, since it is Alexa, you can ask anything (like "what's the weather forecast?"). Typical requests by you would be:
Tune to CBS
Show the channel guide
Record NCIS
Show my recordings
You can also connect any Alexa device in your home to your TV and issue the same commands (like "Alexa, Tune to CBS"). You set this expanded capability up initially via the Alexa App.
Voice Feedback and Settings
Yes, the Fire Stick offers voice feedback - voicing the text on the screen. It is called VoiceView, and you can learn more about it on this Amazon page: About VoiceView for Amazon Fire TV. You can fine-tune how VoiceView works via the Settings menu (the last option on the home screen) under Accessibility. For example, you can set the speech rate. You can turn VoiceView on and off by holding down the Back and Menu keys simultaneously for several seconds (they say 2 seconds, I say 3...). You'll hear "VoiceView Ready" when the feature is enabled and ready to use. When you turn the feature off, you'll hear "VoiceView Exiting." The first time you turn VoiceView on, a tutorial automatically opens with tips on how to use the feature and locate buttons on your Fire TV remote. Implementation may have a few flaws at this time, but basically it works well. And speaking of settings, I recommend that at some point you review all the settings to see if you care to alter any of them.
Screen Magnifier
Another accessibility aid is a Magnifier for people who have low vision or anyone needing help reading the screen. Amazon offers these instructions:
To zoom in onscreen, you can enable Screen Magnifier from Settings > Accessibility.
Hold Back + Fast Forward to enable or disable Screen Magnifier from any screen.
Press Menu + Fast Forward to zoom in or Menu + Rewind to zoom out.
Press Menu + Up, Down, Left, or Right to pan in these directions.
Press Menu + Play/Pause to quickly enable or disable zoom.
Note: Most video content will not zoom.
The Channel Guide and Recording to the DVR
The free channel guide works pretty well. You can activate it by saying "Show the channel guide" or just "Channel Guide" (but not "guide" or "program guide"). If you add free Apps like Pluto, the App's channels appear in the guide also, following the local TV stations. This is how I added CNN and a Weather channel to my system. (See 10 Free Hidden Amazon Fire TV App Gems That Every Cord Cutter Should Try.) While viewing a particular network, you can use the controller to make the channel (network) a Favorite by pressing the Menu key and selecting "Add to favorite channels." This puts a heart by the channel name and duplicates the channel listing at the beginning of the listing, so all your favorites are together. You can also suppress the listing of any networks with weak signals or for which you aren't interested by using the Menu button while positioned on the offending network in the Guide. When using the Channel Guide, you can skip to the next day by pressing the Fast Forward button or return to the beginning of the listing by pressing the Back button.
As you navigate the guide (up or down for channels, left or right for time slots), when you come across a program you would like to record, press the Select key. You will be given the option to record the episode or the series, and this works well. You then get to select whether or not to record only on the current network or for any network. Pause a moment, and you get a message that the recording has been scheduled. Then the options on the screen change, and you can Change the Recording Options or Cancel the series or episode recording. Under Recording Options, you can change the start or stop times (to add extra time to the end in case it starts late, for example), specify how many recordings to keep, and choose New (the default) or all episodes.
You can see what programs are coming up to be recorded or manage your recordings by saying, "Show my scheduled recordings" (but not "Show my scheduled programs" -- you sometimes need to be careful about what word you use!).
Playing Recorded Programs
To play a recorded program, simply press the Voice button and say "show my recordings." Select one, and press Select again to play. When you have finished (or for that matter, before you begin), while the program name is selected, you can press the Menu button and select the Delete option. You can also begin playback directly by skipping the list of recordings and just saying something like "Play NCIS."
Skipping Commercials
While there is no "skip commercial" function, you have several options to move forward quickly:
Clicking the Right or Fast Forward button advances 30-seconds. You can do it repeatedly to up the time.
You can press the Voice button and say, for example, "Fast forward 2 minutes," and this works very fast.
If you hold down the Fast Forward button for a moment, you continually advance, even if you let go; but this is awkward unless you can see the time displayed.
If you have advanced a little too far, Amazon makes it easy to back up, because the Left or Rewind buttons only back up 10-seconds at a time, not the full 30-seconds.
Accessing the Audio Description (AD) Track
The AD track is accessed via the Menu button. Unfortunately there is no voice command to activate AD (or bring up the Menu). As a reminder, audio description is provided by a feature called the Second Audio Program, or SAP, channel or feature. While watching a program (live or recorded), press the Menu button and select Captioning and Audio (the second, third, or fourth choice down, depending on what is showing and how you got there). You will be presented with two options. The one on the left is Audio Languages, while the one on the right is Subtitles and Captions. Pressing Select for Audio Languages, you will typically be presented with two choices: English and Spanish. Yes, sigh, Spanish. Translation: Audio Description. So IF an AD track is available, it will be activated. If you select Spanish and no AD track is available, one of three things will happen:
No change. That means the local station is simulcasting the main audio channel on the so-called SAP channel. Good for them.
No sound at all. That means the local station is not using the SAP channel. Boo.
Spanish! The SAP channel might just in fact be used for Spanish language!
Now there is a catch here. Once you activate AD ("Spanish"), the setting will be remembered until you deactivate it. This means switching to a program with no AD track may result in no audio (choice #2 above), and you will need to switch Audio back to English.
Remote Access and Control
Using the Fire TV App on your phone, you can watch live TV, watch a recorded show, record a current show, delete an existing recording, or control any of your TVs. I did not see a way to directly access the Channel Guide and/or setup recording for a future show, however.
Pros and Cons
Here is a list of what I feel are the Pros and Cons of the current Fire Recast TV DVR.
Pros:
Not counting the cost of individual fire sticks for each TV, one payment buys it all: a DVR and Channel Guide. No monthly fees. Yea!
You can place the Recast DVR anywhere, so you can put it where the antenna signal is best (or an attic antenna line is available).
The Channel Guide is free, useful, and works as expected.
Adding Apps like Pluto significantly and seamlessly expands the number of channels available in the Guide and on your TV (though only some of them support AD).
Apps are easy to add. The biggies like Netflix and Prime Video are already there, and others (like Apple TV or Pluto) are easy to locate, add, and access.
SLING TV, Hulu + Live TV, and YouTube TV (which supports AD well) are now integrated.
You even get an Internet Browser App.
The Fire TV controller is a very nice controller usability-wise -- much better than the one for Apple TV.
You can operate your TV and optional attached sound system with the single Fire TV controller (power on/off, volume up/down, etc.)
You can support all TVs with one Recast unit (though each TV needs its own Fire Stick).
You can watch TV and recordings remotely on a mobile device.
Built-in Alexa support makes changing channels, bringing up the channel guide, playing recordings, and finding titles easy (as well as any other Alexa functions, like the local weather or adding to your shopping list); plus you can use an Alexa device in the room to do the same.
4K is supported for most Apps (like Netflix), though not for broadcast TV.
Cons:
No 4K support for broadcast TV (though 4K is supported for many Apps). This is likely a non-issue for most people and might be remedied in the next version.
No direct nonbroadcast network support (though some networks like CNN have Apps that offer them, though not necessarily "live").
You are limited to two TV's using the signal at a time. This can be a problem if a TV is turned off but left tuned to a station, as the STICK has the signal.
When powering on the TV, the main menu may come up, not the last channel watched as TVs usually do.
Switching channels is not instantaneous and can be slow depending on your Wi-Fi network and component distance from it. [I alleviated this somewhat by moving the Recast and switching Wi-Fi networks.]
Deleting a DVR show after watching is occasionally not an option immediately available for unknown reasons, or you delete it and it doesn't go away sometimes.
You cannot activate audio description via Voice control; and once activated, it "sticks" until you deactivate it, which may result in lack of sound on shows without an AD track. [I do believe that in cases where "Spanish" is not offered but was previously selected, there is no problem.] Amazon tells me this is not an easy problem to fix.
FAQ
Here is the Amazon Fire TV Recast FAQ - Frequently Asked Questions. And again, About VoiceView for Amazon Fire TV.
Summary
I'm keeping my Fire TV Recast DVR and have "cut the cord."* Amazon has "fixed" some shortcomings of the product with software updates in the past, and I am hopeful that some of my "cons" can be addressed in the future. In July 2020, they told me they "... can offer you hope ... we are definitely still working on Fire TV Recast and the user interface for Recast that appears on Fire TV and mobile devices." Since then the overall user interface has been updated, but my cons have not been addressed.
That's my report for now. I will update it over time as I get more experience and feedback from other users to clarify points above. Send your comments to the Webmaster using the link below. If you choose to order a Recast DVR and/or Fire Stick, you will help support this website by clicking any of our Amazon links first, including these three: See the Amazon Fire TV Recast DVR. See the Amazon 4K Fire Stick.

Sep '21: See the Amazon 4K Fire Stick Max.
- Fred Brack, originally published Nov 5, 2019; last updated as noted at the top of the article.
----------
* Footnote: Unwilling to lower my monthly fee with the "threat" of canceling my $107/month service, when I did finally call to cancel it, they offered me $60 off per month for a year! Note, however, that such lowered prices inevitably come with a Contract.