The Channels App and HDHomeRun Tuner - Review
ADP Media Committee member Judy Dixon uses the Channels App and has provided this review for the consideration of vision-impaired users looking for cord-cutting solutions which maintain the SAP feed for audio description tracks.
The Channels App and HDHomeRun Tuner
The Channels App for Streaming Live TV and Cable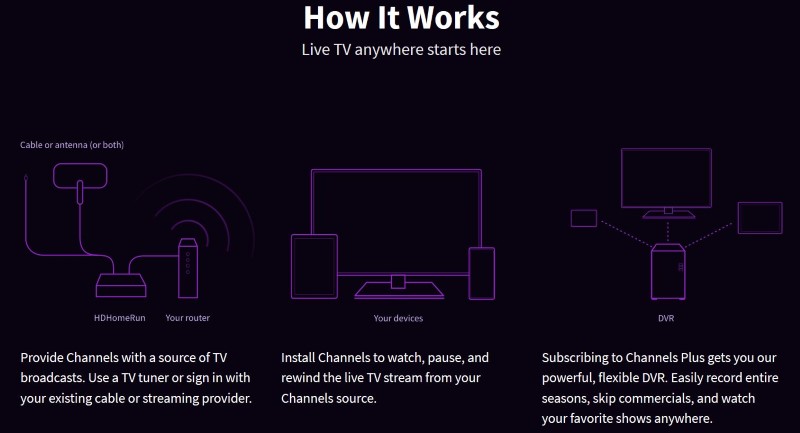 The Channels App lets you stream live TV content on many different devices. It can be used with an external antenna and/or can be connected to a cable or satellite service. There are versions of the app for the Apple TV, iOS, Android, and Fire TV products. The iOS version of the app is free, but all other versions cost $24.99. A one-time purchase of a tuner is required; and depending on your needs, there may be additional fees.
For over-the-air broadcasts, there is no subscription fee for Channels; but to use it, you will need a TV tuner called HDHomeRun from SiliconDust. This is a small box about 4" square that connects to your router and either an external antenna, a CableCARD from your cable provider, or both. Amazon has several models of this device including the HDHomeRun Duo for $100 which lets you watch TV on two devices simultaneously, and the HDHomeRun Quatro for $150 that lets you watch on four devices simultaneously. [Both devices go on sale occasionally, of course, and you can also buy "renewed" versions for less.]

Like any device that has an antenna option, where you live depends on how many stations you can receive without cable or satellite.

Channels DVR is a subscription service that costs $8.00 a month. It records TV shows to a computer (and any attached storage device) on your home network and makes them available to the Channels App.

When you launch Channels the first time, it will automatically detect any and all HDHomeRun devices on your home network. If it doesn't, you can go to Settings and Scan Network for Tuners. When the HDHomeRun is found, select it and Scan Network for Channels.

The iPhone app has three tabs: On Now, Guide, and Settings. To watch a TV show, select the On Now tab, Select the channel and show that you want, then Select the Watch button, and it will begin playing. If the show has audio description, select the Audio button and select Spanish [changed to Descriptive Video in a new release]. There are loads of features in this app and it works beautifully with VoiceOver in iOS.
- Judy Dixon, last updated Jul 22, 2020