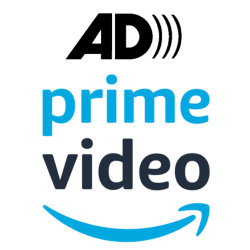 This page discusses how to activate audio description while using Amazon's Prime Video and offers some information about which devices support audio description.

To activate description while using a browser simply press the "A" key on your keyboard. This will cycle through any existing audio track options. (If you were to do this with the cursor, you would move the cursor to the top right of the screen, click on the Subtitles and Audio menu, and choose English Audio Description as the language from the Audio menu.) Once you make this language choice, it will persist to the next movie which has the option on the same device. You can start a movie on one device and switch to another, but both devices must have enabled description. See Keyboard Shortcuts on Prime Video.
Listed titles may be watched on many devices. Look for "Supported Devices" on this Prime Video Help page, then look for "Audio Description: Yes" under your device.
iOS and Android users must install the free Prime Video app. Using iOS and Voiceover, double-tap the screen and swipe until you reach the Audio menu. Android users would use TalkBack. On Apple TV, swipe down, then twice to the right to get to the Audio menu; swipe down again and twice left to get to the Language section where you should find "English (US) AD" as an option. Press Select to choose it and return to your video.
For Roku (as of October 2020), the process is a bit more complicated. This is one user's feedback on how to do it:
1. Pick an audio described movie and press Play.
2. Press Pause.
3. Using your Up Arrow button, press Up once and listen for video option.
4. Arrow up 2 more times and listen for Option menu.
5. Arrow right 2 times and listen for Audio and Languages.
6. Press OK/Select.
7. Press OK/Select again to open the menu for Audio Language options.
8. Using your Up or Down arrow, listen for English Audio Description.
9. Press OK/Select to enable.
10. Press the Back button to resume the movie.

Your choice will be remembered for each device.
Return to or go to our Amazon Prime Video Audio Described Titles page to see the huge list of titles available with audio description!