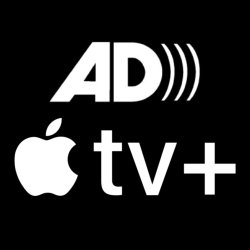 The following titles are AUDIO DESCRIBED on Apple's streaming service, Apple TV+. Almost all of the videos are Apple Originals, all of which have audio description tracks in nine languages (English, French, Canadian French, German, Italian, Japanese, Portuguese, Spanish, Spanish Latin) plus captions in 40 languages.
Apple TV+ is available via the Apple TV App on most streaming devices (see Apple's complete list) as well as web browsers. Note that on some devices you must activate audio description via the Audio menu for every title.
LAST TITLE UPDATE: Jan 21, 2022; count = 99 titles. The

date is the date added here during the past week, which may be slightly after Apple added it. In 2021, Apple added a net of about 4 titles each month.