Podcasts Covering Audio Description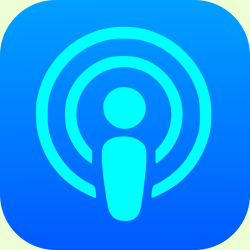 On this page we are collecting pointers to podcasts which cover the subject of Audio Description. If you can contribute, please send information to the Webmaster using the link at the bottom of this page. Last Updated: Feb 3, 2023.
Podcast Series Dedicated to Audio Description
(Alphabetically)
Each page we link to gives you subscription options. All are free.
Individual Podcasts Related to Audio Description
(Newest First)
We try to link directly to the podcast, but sometimes you will have to search for the podcast on the page.
Our 2023 Valentines (NPR Planet Money, Feb 10, 2023; fast forward the Player to 19:35) Feb '23
A Thousand Words (Twenty Thousand Hertz, Oct 19, 2022)
Flipping the Script on Audio Description: In the Making (Reid My Mind, Jun 15, 2022)
Black Art White Voices: A Flipping the Script Prequel (Reid My Mind, Jun 1, 2022)
Audio Description Training Retreats (Hindsight is 20/200, May 10, 2022)
A Conversation with Liz Gutman, Head Audio Description Writer for IDC (That Real Blind Tech Show, Apr 24, '22)
It's All About Audio Description, A Conversation with Eric Wickstrom from IDC (That Real Blind Tech Show, Jan 25, '22)
Audio Description, with Dr. Joel Snyder (National Endowment for the Arts, Jan 24, 2022)
Subtitles for the Blind (David Pogue, Unsung Science, Jan 14, 2022)
Flipping the Script on Audio Description – A Hop Hop Approach (Reid My Mind, Sep 29, 2021)
Flipping the Script on Audio Description – Blind Grown & Sexy (Reid My Mind, Sep 23, 2021 - adult content)
Flipping the Script on Audio Description – And the Winner Is… (Reid My Mind, Aug 11, 2021)
Audio Description Czar, A Conversation with Carl Richardson (That Real Blind Tech Show, Aug 4, 2021)
Flipping the Script on Audio Description – Going Social (Reid My Mind, Jul 4, 2021)
Audio Described National Parks (Hadley, Jun 25, 2021)
Voice Arts Awards Presents Audio Description (Bold Blind Beauty, Jun 4, 2021))
And The Audio Description Goes to… (NFB, Apr 23, 2021)
Inform & Connect Season 2: Roy Samuelson, narrator; Stephen Letnes, composer (AFB, Apr 19, 2021)
Do blind people watch movies? A session with audio description all-star Roy Samuelson (Adventure Mind, Mar 24, 2021)
In Place of Catastrophe (a 7-part series which "explores transgenerational resilience within a disability justice framework," Mar 16, 2021)
The Blind Social, Audio Description (That Blind Lads Podcast, Jan 13, 2021)
Flipping the Script on Audio Description Part Three – Moving Beyond Just US (Reid My Mind, Nov 25, 2020)
Flipping the Script on Audio Description Part Two – Voice Matters (Reid My Mind, Nov 11, 2020)
Flipping the Script on Audio Description (Reid My Mind, Sep 16, 2020)
Audio Descriptions in Movies for the Blind (Newstalk, Aug 21, 2020)
The Importance Of Audio Description For Subtitled Movies (NPR, Aug 16, 2020)
Advocates For Deaf And Blind Laud Netflix's New Playback Features (NPR, Aug 8, 2020)
"Audio Description with Ray Samuelson" Pushing Limits (KPFA, July 31, 2020)
Making movies/TV shows accessible to the blind - Interview with Roy Samuelson (JC5 Productions, July 2020)
Voices in the Entertainment World from a Blindness Perspective (Blind Abilities, June 2020)
Viewing Audio Description History Through Audio Eyes with Rick Boggs (Reid My Mind, May 2020)
Don't Let Audio Description Services Slip! (RNIB, Mar 2020)
An Audio Description Extravaganza! Conversation with Voiceover Artist Roy Samuelson, Activating AD and a Bit of a Rant (Life After Blindness, Mar 2020)
Audio Description: A Professional Perspective (Part 2 of 2, The Nation's Blind, March 2020)
Audio Description: The Big Picture (Part 1 of 2, The Nation's Blind, Feb 2020)
The Voice of Audio Description – Roy Samuelson Returns to the BA Studio (That Blind Tech Show, Feb 2020)
All Things Audio Description (ACB, Dec 2019)
Audimance: Transforming Dance and Movement into Sound (Reid My Mind, Nov 2019)
Audio Description: More than Movies Television and Theater (Reid My Mind, Aug 2019)
Opportunities in the Creation of Audio Description (Reid My Mind, Aug 2019)
How Do You Watch Movies If You Can't See? (Be My Eyes, July 2019; requires Spotify subscription, but you can signup for free)
Blind Abilities Super Duper Extra: Spider-Man: Far From Home is Here, And Audio Describer Roy Samuelson Spins His Own Web on Audio Description (or transcript of the Blind Abilities podcast) (Blind Abilities, June 2019)
That Blind Tech Show: The Return of Roy! Audio Describer and Voice Artist Roy Samuelson is in the Studio (March 2019)
The Art of Access with Cheryl Green (Reid My Mind, March 2019)
On the Mic with Roy Samuelson (Reid My Mind, Jan 2019)
Reid My Mind Radio: Black on Audio Description (Reid My Mind, Aug 2018)
Reid My Mind Radio: On Black Panther Audio Description - Race, Selection & Time (Reid My Mind, May 2018)
Twenty Thousand Hertz: Audio Descriptions (Feb 2017)