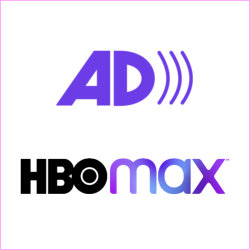 The following programs are AUDIO DESCRIBED IN ENGLISH on HBO Max in the USA. Jump to Titles. You can also view the official list of titles with AD on the HBO Max website. Note that there are five different categories to check on that page, however. The HBO Max list of audio described titles is available below the list of genres on the various platforms. Select episodes of HBO and HBO Max Originals are available for free (article).
LAST TITLE UPDATE: Oct 12, 2021; count = 361 titles. The

date is the date added here, which may be later than HBO Max added it. In 2021, HBO Max has been adding a net of about 25 titles per month. Additions to this list are generally posted on Twitter and Facebook. HBO Max supports most web browsers and streaming devices. If you have problems with any of the audio described titles on HBO Max, please contact HBO Max Customer Service online, or call 855-442-6629. See also Accessibility Features on HBO Max.
Important Notice
Not all titles listed here will be available on all devices initially. We list titles that we find using a Windows 10 computer and Firefox, even though some titles are not listed on HBO Max's official list of described titles presumably because the AD tracks are not available on all devices yet. To have a legitimate "complaint" to lodge with HBO Max about missing AD, you need to find that the title is listed in their own online listing of AD titles. In the meantime, try another device if you can.
NOTE: In our listing, Missing AD means that HBO says a Series has AD, but some episodes are missing AD tracks. Please note that at the present time, some AD tracks appear not to be working (and we cannot identify all of them here). However, a user has figured out how to fix this "defective" AD: Bring up the Audio Menu; select English - Original; then switch back to English - Audio Description. You may or may not have to come back to the movie after switching to English before switching a second time.