Audio Description of a Logo
Back when the former AD International (ADI) website was created, we asked audio describers, both professional and amateur, to submit their own audio descriptions of the ADI logo, which was seen on the top left of every page on that website and is reproduced below.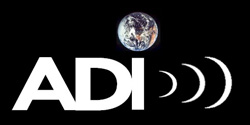 Here are two descriptions we received. To hear each description, click on either of the two links beneath the describer's name. The text the describer will read follows in print after the links. NOTE: The MP3 format takes far less time to download than the WAV file and is recommended.
---
Description by Fred Brack of Arts Access Inc, Raleigh, NC.
The ADI logo, set on a black background, consists of the three capital letters A D I in bold white, joined at the edges, followed by three white expanding sound waves, which look like crescent moons increasing in size. An image of the earth as seen from space in predominantly blue and white tones with a touch of brown rests above the letter I.
---
Description by Paula Broussard.
Over a black background, bold, white letters read "A-D-I," followed by three convex sound waves increasing in size. The planet Earth dots the "I." Audio Description International.
---