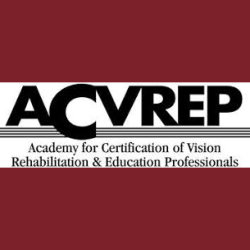 ACVREP's vision and mission is that all individuals who are blind or have low vision receive services from highly qualified professionals so that they may achieve full inclusion and success in their professional and community life.
A key element of full inclusion in community life is access to quality audio description services in all venues. It is for this reason that ACVREP committed to developing certification for Audio Describers and Audio Description Consultants.
In order to develop a certification, ACVREP assembles a subject matter expert committee to develop the quality standards and the certification exam. We received many qualified applications for the Audio Description SME committee ("ADSME").
ACVREP, in order to assemble the broadest and most comprehensive engagement to develop the certification for audio describers and audio description consultants, has established the Audio Description Advisory Committee ("ADAC") that will amplify the extensive expertise of the Subject Matter Expert Committee. The ADAC will be a resource to the ADSME and to ACVREP for input and feedback as the SME is developing the standards for both describers and consultants.
Each member of the ADAC has agreed to be available for outreach by members of the ADSME to provide input on various aspects of the standards as they are being developed by the SME. The ADAC will also, as a committee, review the standards and provide feedback to the SME prior to the SME making recommendations to the ACVREP Board of Directors with a request to post the standards for general public comment.
While it is anticipated that the ADSME and ADAC will concur on the recommendations of standards prior to the standards being referred to the ACVREP Board of Directors, the ADAC may provide direct input on the proposed standards to the ACVREP Board of Directors. ACVREP President and CEO, Kathleen Zeider, who serves on the ACVREP Board of Directors, will serve, ex-officio, on both committees and will be the liaison to the full Board.
Both the ADSME and the ADAC will play essential roles in developing the certification for the benefit of all consumers who are blind or have low vision. On February 19, 2019 at its regular meeting the ACVREP Board of Directors approved the following members of the ADSME and the ADAC:
Audio Description Subject Matter Expert Committee
Kim Charlson, Massachusetts. Chair
Joyce Adams, Virginia
Bonnie Barlow, Colorado
Anna Capezzara, California
Colleen Connor, Virginia
Deb Fels, Canada
Laurie Pape Hadley, Minnesota
Mary Hanks, Texas
Emily Harding Williams, Canada
Lisa Hoffman, New York
Celia Hughes, Texas
Deb Lewis, California
Jolie Mason, California
Wendy Sapp, Georgia
Joel Snyder, Maryland
Jan Stankus, Massachusetts
Martin Wilde, Illinois
Audio Description Advisory Committee
Elisabeth Axel, New York, Chair
Martine Abel-Williamson, New Zealand
Maria Asuncion Arrufat Perez de Zafra, Spain
Everette Bacon, Utah
Sarah Elizabeth Baghun, Michigan
Jo Lynn Bailey-Page, Washington, D.C.
Bernd Bernecke, Germany
Rick Boggs, California
Stasha Boyd, Florida
Mathew Cock, U.K.
Tom Conway, Hawaii
Georgina Kleege, California
Dawning Leung, Hong Kong
Francisco Lima, Brazil
Alison Myers, Australia
Nurit Neustadt, Israel
Bronwen Andrea Okwesa, Virginia
Emanuelle Orange-Parent, Canada
Carl Richardson, Massachusetts
Paul Schroeder, Maryland
Dan Spoone, Florida
Jason Stark, South Carolina
Alan Woods, Ohio
(This document was posted on April 3, 2019, and updated to include member locations on April 19, 2019)